The time to buy a ceramic cremation urn is when you see one that catches your eye. Each urn is a one of kind piece and often families that are shopping for an urn online, see a ceramic or pottery style cremation urn and bookmark it, only to come back at their time of need and the item has sold. We can always create an urn similar to the one they saw or a custom work of art, but the family needs to be prepared to wait two to four weeks.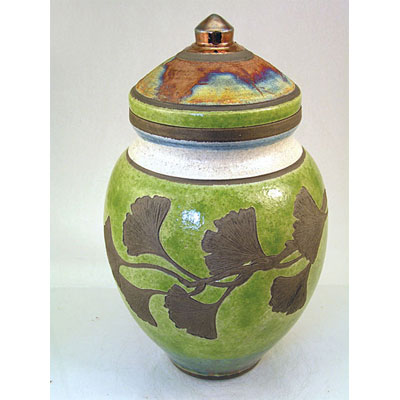 This happened to a West Coast widow who wanted a Raku urn for her terminally ill husband. She saw the urn, liked it, but when she came back to buy a couple of weeks later, it was sold.

She ordered two gingko leaf urns for her husband who spent his final days in a room with a view of a gingko tree outside the window. The family held a memorial service at the golf course and filled one of the urns with his favorite cigars, golf balls and tees and other remembrances. The other urn was used to bury his ashes.
Forged from natural materials and fire, ceramic is a time-honored material that can be used to craft an array of fine art items. This includes ceramic cremation urns. If you are looking for a way to hold your loved one's remains in a tasteful work of art, you may want to choose a ceramic cremation urn as your solution.