We have a new line of wood cremation urns at Urn Garden. The natural beauty and warmth of wood is an excellent choice for families that plan to keep the ashes in the home or secure at a columbarium or niche at the cemetery. The style below is actually painted pine and has a vintage vibe to it. If your loved one ever said, "just put me in a pine box", this urn might be the solution…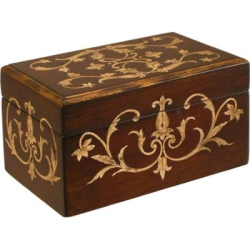 Simple hand painted details with a secure lift off lid that could be permanently sealed with any household adhesive.
If your tastes run a little richer and want more flair, this gorgeous black and gold trimmed urn may be more your style.
Our attractive full-size adult urn is solid birch wood, hand-painted by our talented artists in striking black and gold accents. Antiqued brass feet and loads from the top by lifting the lid.