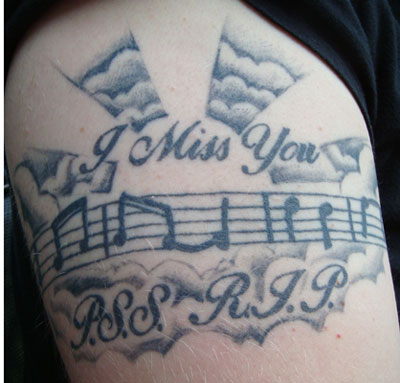 Peggy Sue Smith, RIP: My nephew had a memorial tattoo done to honor his grandmother, who introduced him to the guitar and paid for lessons.
Peggy was my mother-in-law, and was an influence in launching this site. Peggy had always been the picture of health and when she died suddenly from a brain tumor, 6 weeks after diagnosis, we were all deeply affected. Peggy's husband Ed Smith was kind enough to compose these words about Peggy:
It's hard to put a lifetime in such a short space but Peggy Smith had a full life even though it was prematurely shortened by a malignant brain tumor in 2001 at the young age of sixty. Peggy grew up and attended schools in Springfield, MO graduating from Central High School in 1959. She had been a student worker in high school and was hired as a full-time secretary at Parkview High School upon graduation. She worked there for several years before moving to California and then returning to Springfield in the mid-seventies. She was re-hired by the Springfield School District upon return and worked there until retiring in 1998 for a total of 31 years with the School District. Peggy's first marriage was ended in the late eighties and she was married again in 1984. She was the mother of two children, Kirk Hall and Keely (Hall) Millstead, and the grandmother of eight, five of whom were brought into her life in the second marriage. She thoroughly enjoyed their participation in sports, music and other activities and didn't miss many opportunities to see all of them perform at their various functions. She was a great lady and has been missed much by all who knew her in the more than four years since her death.