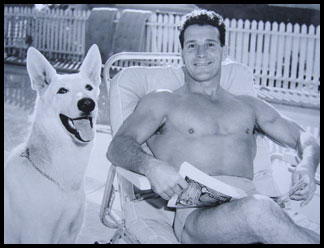 He's in his 90's now, but to baby boomers and their parents, the name Jack LaLanne is synonymous with health, vitality and fitness.
LaLanne used to regale his audience with his one-armed push-ups done on fingertips. He showed them how to turn their recliners into mini-gyms by pumping imaginary bicycles and doing other chair exercises.
In the 1930s, he even began advocating weight training. To go beyond the usual barbells — and to keep his gym clients from getting bored — he worked with a blacksmith to develop leg-extension equipment and one of the first adjustable weight machines that are standard equipment in today's gyms.
He rises at 6 or 7 a.m. and heads for a two-hour workout. His wife of over 50 years, Elaine takes a more laid-back approach. "He rolls out of bed and I roll over," she quips, preferring to work out in the pool later in the day.
He eats two meals a day, but notes that this regimen isn't for everyone. "You've got to figure out what works for your schedule," he says.
Breakfast is at 11 a.m. He eats four to five pieces of fruit and gets protein from cooked egg whites. "Once in a while I eat a turkey sandwich on whole wheat with avocado and tomato," he says.
"Every restaurant near us now has a Jack LaLanne salad," he says. "It's at least 10 raw vegetables chopped, and very little lettuce." He brings his own sesame oil salad dressing and sometimes adds more hard-boiled egg whites for additional protein. He also eats fish, especially salmon, which is rich in healthy omega-3 fatty acids.
And, of course, there's a little wine, a tribute to his Franco-American heritage. "Ever see a Frenchman who doesn't drink?" he asks. He sips a glass that's a mix of White Zinfandel and red wine — because, as he says, "one's too sweet and one's too sour."
Sally Squires, Washington, Post