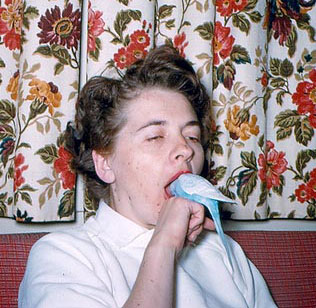 What I learned today:
For 10 years one of my clients showered and shared her bed with a cockatoo named Elvis.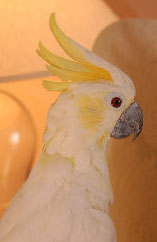 Elvis liked to ride in the car and eat cheeseburgers and ice cream at the DQ.
He would hold up a foot and scream "Raspberry!" and want you to blow on his toes.
Client has nine other birds in the parrot family, and Elvis was never really part of the bird population. He preferred to perch on the shoulder of his master. He was kind of an attention whore, and had to be near (or on) when master was in the house. Folding laundry, watching tv, or going to the bathroom, there he was. Evidently, it's not uncommon for the cockatoos to live to be 70 or 80 years old. Even with all that love in the room, Elvis only made it to 10.
This is the bird urn his owner selected. While my client prefers a traditional burial for herself, she has instructed her kids that Elvis' ashes will be placed in her casket when the time comes.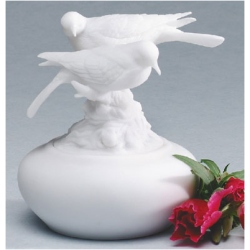 Rest in peace my cheeky little cockatoo.