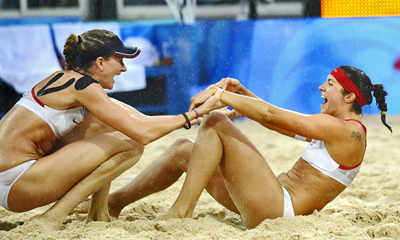 BEIJING (Reuters) – Misty May-Treanor had one worry when she came through customs on her way to the Beijing Olympics: what if they confiscated her mother's ashes?
American May-Treanor sprinkled some of her mother Barbara's ashes on the beach volleyball court in Athens when she and Kerri Walsh won the semi-final and the final and she was determined to do the same in Beijing.
After winning the semi on Tuesday, and finals last night, May-Treanor pulled out a camera film canister and sprinkled some more of the ashes on to the sand in the Chaoyang Park stadium.
"My Dad packed it for me and I was like 'What if they take it in customs as I go in?' but it was all fine," May-Treanor said after the match. "We can't leave her home alone."