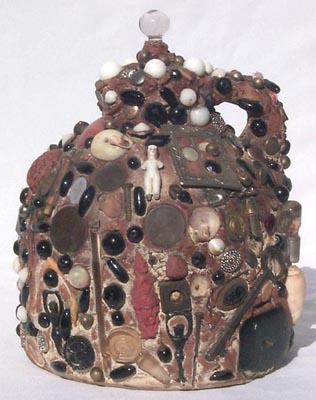 Memory jars and jugs have always fascinated me. While they may look like a hunk of junk, they are actually messages in a bottle. Memory jars are thought to originate with Southern blacks as decorative grave markers. The art form later became popular with the Victorians and has become a rare collectible in the folk-art genre.
The jar pictured above is built on an old molasses jug and is covered with an extraordinary assemblage including old buttons, an onyx mourning cross, shells, marbles, keys, a belt buckle, broach, stones, English coins, bottles, ceramic people, metallic objects,screws, chains, jewelry, a wishbone, and more. It is topped with a glass finial. It has a pencil eraser holder with a date of 1886 on it. The three coins are all Victorian.
It was said that this jug had been given to a maid in the 1920's by an English family who had immigrated to the US. It is 10 inches high, 8 inches in diameter and weighs over 7 pounds. While there has been some very slight loss over the years, it is almost complete; with the items now held very securely with old putty. It is signed in red on the bottom twice what looks likes "Mandelere". Considered to be one of the best memory jars seen on the Folk Artisans site.
The price? $600.00