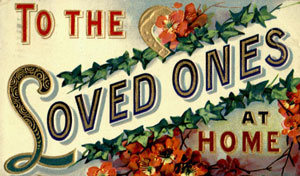 Funeral Report from PA:
The flowers were beautiful and the service was very nice..Nelda had asked the minister to do the service when Pauline's mother died , she had picked the Legion and the caterer so most of it was done….there were 75 or more there and they stayed for the lunch and for about 3 hours after.. I have discovered an upside to cremation …you can bring the person home with you and that seems to make it easier somehow…Matt (Nelda's grandson) gave a short eulogy and there was not a dry eye in the house as they say…he turned out to be the perfect choice…Nelda would have been so proud of the turnout….she always worried that she had no friends…..love to all in MO…..d
To my knowledge, Nelda is the first member of our family to be cremated. And for sure the first one to reside in the home AFTER the funeral. The plan is to scatter her ashes at a later date.