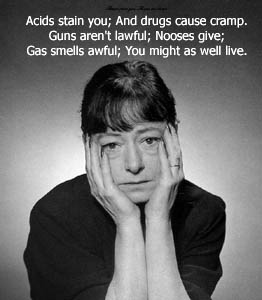 Over the holiday weekend we caught an old favorite, "Mrs. Parker and the Vicious Circle" with Jennifer Jason Leigh as Dorthy Parker, and was reminded of the author's tragic ending.
Four suicide attempts, no heirs, her will was simple: she left her literary estate to Dr. Martin Luther King. Parker was cremated and her ashes sat on a shelf at the crematory for six years.
A year after Dorthy's death, Dr. King was assassinated and the Parker estate rolled over to the NAACP. Meanwhile, her ashes had been mailed to her attorney's office where the box resided in a filing cabinet for 15 years.
In 1988, someone figured out that Mrs. Parker's ashes were unclaimed, New York tabloids ran stories and readers sent in letters about what should be done with the dust. The NAACP stepped in and took the box and dedicated a memorial garden at the national headquarters in Baltimore, and finally interred the ashes there.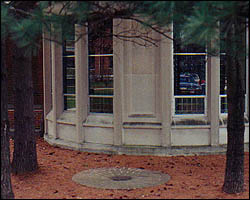 source: dorthyparker.com