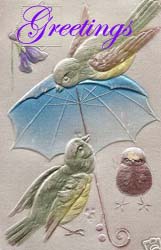 Collecting ourselves after a whirlwind week! Hummingbirds are hitting the feeders hard, despite the downpour. And you know what that means?
Merry Ho-Ho! Last year, Hobby Lobby got the award for Earliest Christmas Merchandising Effort when they started stocking in July. Haven't checked their progress this year.
Now, let's get serious for a minute.
First up, Candace over at Repose is archiving her mother's fascinating story of a teenager in war-torn Czechoslovakia.
Earlier that year, the government had closed all of the high schools to support the war effort. All of the teachers were pressed into military service. All of the other girls my age were made to work for the German Army or "Arbeitsdienst" to help run the farms or the hospitals which had lost workers to the war as well.

The boys my age were all drafted too. They received three months of marching training, and then were showed how to hold a gun. Then they were sent to the Russian front.
Candace shared her story of creating her brother's urn:
I carved one from wood and buried it in our childhood back yard. I used twigs from bushes in the yard, painted it with spirit circle patterns and filled it with the most beautiful flowers I could find. Then put the ashes in a velvet pouch and added letters written to him.

It was a long time ago but I still miss him so very much. He was not only my brother but a very good friend and some days I still cannot believe he is gone. In Repose was created, in part, because of him.
Beautiful.
Our condolences go out to the family of Daniel Joseph Feather, 29. We hit the "Baboon" occasionally, and followed his dream of getting THE dream bike. His 8/6 entry, "Fear is the Mind Killer" is eerily prophetic. Shiny Red Triumph arrives on at the end of July, Dan dies on his dream bike two weeks later.
Heavy.
Where do we go from here?
Today's tip: Turn your lights on!