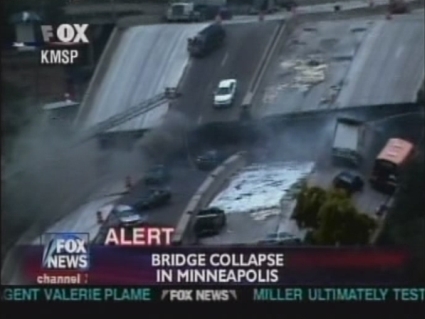 Man, you just never know do ya? Comin' home on I-35 W after work, or heading to the Twins game just like any other day and the bottom falls out…..
Witnesses say the bridge started shaking and then came down fast….No word yet on how many injured or worse….Just hope everyone gets out alive…..Gridlock and no where to go. Lileks just put up a post on Buzz.MN
Bridges are an engineering marvel, or in this case- a nightmare.
The first engineering marvel that kick-started a wave of panic for yours truly was riding the pod to the top of the St. Louis Arch at age 12. The thought of being trapped in a tram for hours makes me tremble……
Get me a nerve pill……
The August issue of Popular Mechanics features a fascinating article on the modern marvel of high-tech coal mining. The guys that travel more than 600 feet underground to harvest America's favorite fossil fuel are amazing. Intense and dangerous work.
Despite a slight increase in U.S. mining accidents in 2005-2006, underground mining is far safer than it used to be- declining from an average of more than 2400 deaths a year in the early 20th century to 47 last year.
One worker says, "when I started 33 years ago, you'd have 1200 people underground and you'd be lucky to mine one million tons a year. Now 150 people down there pull out over six times that." The technology that has ramped up production is the 70 million dollar "longwall" machine and with current coal prices, it pays for itself in about two months!