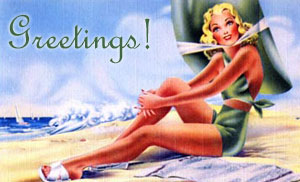 To Wisconsin of course! From Roadside America:
In Sam Sanfillippo's funeral home basement in Wisconsin, we've noticed a large number of albino squirrels among perky dead animal dioramas. They ride motorcycles and jeeps, shoot hoops, party in bars. There are more here than in all the wildlife museums and taxidermy collections we have visited.

Sam tells us about acquaintances he had made through a fraternal organization in the town of Marionville, Missouri, a well-established Mecca of albino squirrels. When they discovered his passion for animal dioramas, they volunteered to send him a batch — "the ones that had been hit by cars or died of heart attacks or whatever."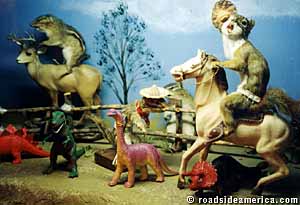 In other animal news, I was visiting a friend recently who asked if I wanted to see her new pet rat. Uhhh- no thanks. Why would you get a rodent for a pet? She says he's super smart, cute, and the kids love him. I only want to see a rat…..on a trap or in an urn.
Quick garden update: The Irish Spring experiment seems to be working as a non-toxic cat repellent. The soap shavings are not that attractive in my flower beds, especially after a rain. Next, I'm trying the liquid version in a spray bottle. Although, seems like I read that the bar soap is the best. We'll see.
Inspiration this week comes from a 78 year old lady at the gym. A couple of years ago, she slowly shuffled in every day to exercise, clearly had some balance issues, but was dedicated to her daily workout. Saw her for the first time in a while yesterday, lifting weights, and had physically been transformed. Solid core strength, better balance. She looked amazing and so much stronger. There is hope for all of us.
I did have to snap her with my towel, when she guessed my age at ten years older than I really am.