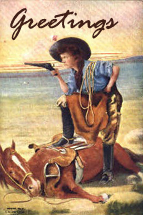 Earlier we mentioned that the richest woman in Asia passed, we'll also say goodbye to one of the world's richest women Helen Walton. RIP.
Advertising insiders hint that GM and other sponsors are ready to hook up with Imus….what a difference a week makes!
Television news has been grim the last few months- Dirtsister been reprimanded by other viewers in the room to dispense with the heavy sighs and harumfing.
Chatter hit it with this post.
Regarding news stories, 64 year old New Orleans resident, Vivian Westerman was the inspiration for today's greeting. "I got a 6,000-watt generator and the cutest little Smith & Wesson, snub-nose .38 you ever saw," she boasted. "I've never been more confident."
Westerman, an artist who lives in the city's Algiers neighborhood, is prepared to use deadly force. "I'm a marksman now. I know what I'm doing," she said. "There are a lot of us. The girl next door is a crack shot."
On a lighter note, have a great weekend!