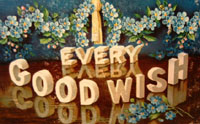 Asia's richest woman, Nina Wang, the famously frugal Hong Kong tycoon who died last week, is to get a hugely lavish, no-expense-spared send-off April 18, reports Agence France Presse. Wang's family is spending millions of dollars on flowers for the funeral of the late head of the Chinechem property business.
Wang, known in Asia as "Little Sweetie", died April 3 aged 69, had a 4.2 billion dollar fortune, was famous for wearing discounted clothes and dining out at fast-food restaurants. She built up the Chinachem Group into one of the city's largest private companies after inheriting it from her husband Teddy Wang, who disappeared in 1990, believed kidnapped.
Nina, who famously sported mini-skirts and pig-tails well into her 60s, died leaving no heirs and never publicly named a beneficiary. Her lawyer Jonathan Midgely is reported to have said she left her fortune to just one person, but would not reveal the identity of this person until at least after her funeral. She will be cremated and buried in a Catholic ceremony.
Wang, ranked by Forbes Magazine as Asia's 35th richest person, had no children but is survived by at least one brother and reportedly other siblings.
Lawyer Wong Tak-sing said under Hong Kong law Nina Wang's brothers and sisters could apply to inherit her fortune if she did not have a will. Wang's nieces or nephews could share the wealth as well if their parents had died.
Wang successfully battled her father-in-law for a multi-billion dollar estate left by her late husband Teddy Wang, a property tycoon who vanished more than a decade ago.
Central to the marathon probate case was a handwritten will that Wang said was penned and signed by Teddy in March 1990, a month before he was kidnapped and never seen again. Some reports at the time said Teddy was gagged and bound and thrown out to sea from a Chinese "sampan" boat.
Teddy was also kidnapped in 1983 when his car was hijacked, and only released — left in an iron box at the side of a road — after Nina paid an $11 million ransom.