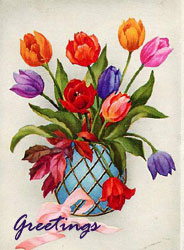 A radioactive corpse in a lead-lined coffin. That's Alexander Litvinenko. We've been fascinated with the strange story of the ex-F.S.B. (K.G.B.). Complicated indeed.
How many times have you encountered the person that seems like a blowhard, talks incessantly and just wants to be taken seriously? No one wants to hear their rhetoric. Litvinenko was that guy.
The Russian spy services have a long and vivid history of devising creative ways to kill the Kremlin's political opponents. Whether it meant plunging an ice pick into Leon Trotsky's skull (Mexico 1940), poking the Bulgarian dissident Georgi Markov with a poison tipped umbrella (London, 1978), or using a missile to home in on a rebel warlord's cell phone (Chechnya, 2006). These men were victims of the ultimate censorship: state-sponsored terrorism.
And not just the men…don't forget about Russian journalist Anna Politkovskaya. On the day of her murder, Politkovskaya had planned to file a lengthy story on torture practices believed to be used by Chechen authorities.
Litvinenko's was a unique death; he is the first person in history- that we know of- to die from polonium poisoning. A number of Russian businessmen have died under mysterious circumstances in recent years, some seemingly poisoned.
Polonium is available in minute amounts for as little as $49 over the internet. Litvinenko, however, died from a dose perhaps 100 times larger than those publicly available. Only one nuclear laboratory in Russia produces polonium. Its officials have denied misplacing any.
What about the ones who didn't die? The ones that just needed a reminder?
Viktor Yushchenko during the 2004 election in the Ukraine. Yushchenko was poisoned with TCDD dioxin, and has the distinction of having the second highest dioxin level ever measured in a human.
The award for the highest blood levels of dioxin goes to two women in Vienna who had been deliberately poisoned with the synthetic chemical in the mid-1990s and both lived. There is not much information available on the women, who worked at a textile plant. At present, despite thorough environmental and police investigations, the cause of this unfortunate incident has not been fully explained.
What's the point?
Free Speech, my friend.
Today's tip for better living: Say what you mean. Mean what you say.