Today we remember the girls in the Emergency Flight fire. 3/25/1911 RIP.
A total of 146 workers died in less than fifteen minutes. This tragedy is noted as the worst factory fire in the history of New York City. It occurred on March 25th, 1911 in the Asch building located at the northwest corner of Washington and Greene streets, where the Triangle Shirtwaist Company occupied the top three of ten floors. The company employed five hundred, mostly Italian and Jewish immigrants between the ages of thirteen and twenty-three. In an effort to keep the workers at their sewing machines and to keep out union organizers, the proprietors had locked the doors leading to the exits.
Down below on the street, people started to notice the smoke billowing from the 8th floor. One of the bystanders observed a bolt of cloth come flying out the window and hit the pavement. Instinctively, he remarked that Harris, (one of the factory owners) was trying to save his best material. As the people on the street moved closer, out flew another bolt. It was then that the realization hit them that it wasn't bolts of cloth at all but bodies plummeting to the pavement below.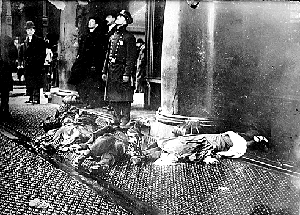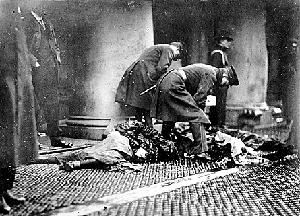 More from the NYT…
Today's tip: Check your smoke detectors.