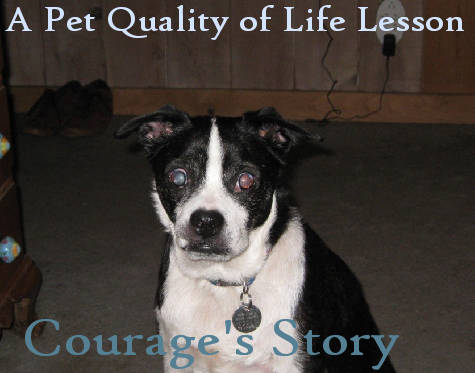 Meet Courage. He came into our lives when he was 8-weeks old in December, 1999. Fifteen years later, I held him in my arms while lying on the living room floor, as he was euthanized.
My heart still breaks when I think of that afternoon; and I'm proud of the care I gave him in his final moments.
But, to be completely honest; I'm not entirely sure–for very selfish reasons – I didn't wait too long to let him go. You see, at the time, my ex-husband was dying of colon cancer –had been in intensive treatment for months– and I don't think I was in my 'right mind.' The truth of it: I needed Courage with me for support. You know the kind I'm talking about: that selfless, unconditional love we receive from our pets. (You can read more about that difficult time in Anticipatory Grief: One Woman's Story.)
Courage's Backstory
I realized some years ago that Courage joined the family for all the wrong reasons. Our dog Gus had died some weeks earlier and my sons and I (even their dad, Matt, I think) were broken hearted. It was Matt's idea to get another dog and just a few weeks after Gus's death, we welcomed this lively puppy into the house. Experts will tell you it's a bad idea. You need time to grieve and recover your equilibrium after a pet dies.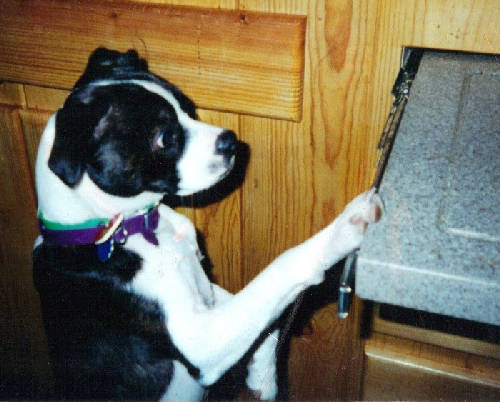 So, here he came, and brightened up our lives, while at the same time, complicating it. We loved him and he loved us. Life was good.
Long story short: Courage came with me and the boys (along with three cats) when I left Matt in late April, 2003. I'm pretty sure that was as difficult of a time for him as it was for the rest of us, but his presence gave us what we needed. Courage stayed by our side, as I said, for 14 years before his diagnosis of congestive heart failure brought us to a new stage in our lives.
It took about a year for the end to arrive. During that time, we gave him 5 pills every day ('forced down' with applesauce) and did everything we could to postpone his death. I'm sure it's also true for many other 'pet parents, which is why I'm writing this post. Our hearts rule our heads, but I'm here to say there's a tool you can use to help your head regain control of your actions: it's the pet quality of life scale. Unfortunately, I didn't know about it when Courage was ill – another regret to add to my collection.
What is 'Quality-of-Life'?
We seem to use the phrase frequently and most of us have an intuitive sense of its meaning. After all, each of us has been sick with one virus or another, and has experienced the decline in life's quality (hopefully short-lived) firsthand.
There are many accepted definitions of the phrase, but this one – an amalgam of some I've read – captures critical elements in assessing someone's quality of life –including that of our beloved pets.
"Quality-of-life" is a measure of both the degree of satisfaction, and physical energy that powers us to successfully copy with the full range of challenges encountered every day."
Had my thinking been clearer, that definition would have helped me to recognize Courage's decline – but it's not quantifiable. Fortunately, you can find resources online to help you measure your pet's quality of life.
Resources Worthy of Your Attention
Lenette and I spoke back in September about what topics we'd like to write about, and she suggested this topic – because of her firsthand experience using a pet quality of life scale when making the tough decision to euthanize the family's aging dog. As I said earlier, I'd not heard of one; so I was eager to explore the topic.
Sadly, she wasn't able to find the exact diagnostic tool she used. "It was fantastic," she had commented; but it was nowhere to be found. (She and I are committed to reconstructing it, so as to make it available to our readers. So stay tuned!)
Here's What I Found
Research led me to the Quality of Life Scale from The Veterinary Practice News, and Ohio State University's "How Do I Know When It's Time? Assessing Quality of Life for Your Companion Animal and Making End-of-Life Decisions" The Association for Pet Loss and Bereavement's Quality of Life Checklist is also worth a long look.
Closing Thoughts
Without doubt, when you bring home that puppy or kitten you already know – somewhere deep inside –the day will come when your heart will break as you are forced to say 'good-bye' to this animal companion, just as you did all the others. When that time comes, a pet quality of life checklist or scale can be a big help in knowing the answer to the question of "when is the right time?" for you to let go.
Next time around we'll be looking something I've experienced all too often: pet loss grief. It's a topic near and dear to my heart; I hope you'll join me.