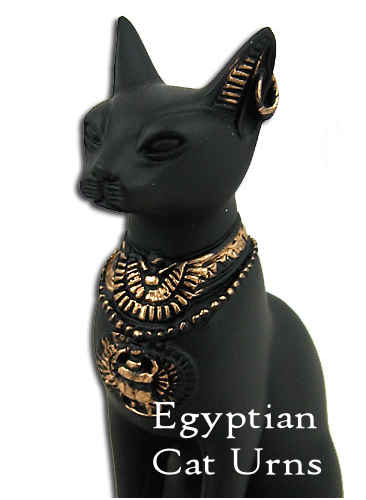 I promised, in the closing paragraph of a previous post, "Beauty from the Ashes: Outdoor Pet Urns," to take a closer look at the Egyptian goddess Bastet; the inspiration for our collection of Egyptian cat cremation urns. But first, I'd like to digress for a minute, to share my story – maybe it's similar to your own.
My Love Affair with Ancient Egypt Began Early
I'll let you in on a little secret – when I was about 7 I decided I was going to be an archaeologist. Once I became mesmerized by Howard Carter's 1933 discovery of King Tutankhamun's tomb, I changed my plans: I was going to become an Egyptologist. And, I decided later, I was going to be the one to uncover Queen Cleopatra's tomb. I didn't pursue that vision of adulthood, but still kept my eyes open for news about Cleopatra's tomb – which, it appears, has been found. Egyptologist Kathleen Martinez claims she's discovered the lost tomb of the Queen and her lover, Marc Anthony. Read the PBS article "Cleopatra's Lost Tomb: Q & A with Kathleen Martinez" for all the exciting details.
Now, Meet the Goddess
Bastet, or Bast, means (according to Geraldine Pinch, author of Egyptian Mythology, "She of the Ointment Jar," Bastet was a protector "of the home, domesticity, women's secrets, cats, fertility, and childbirth. She protected the home from evil spirits and disease, especially diseases associated with women and children. As with many Egyptian deities, she also played a role in the afterlife as a guide and helper to the dead although this was not one of her primary duties (source).
From that description alone, it's easy to see why this goddess is perfectly-suited as inspiration for this first Egyptian cat urn for ashes.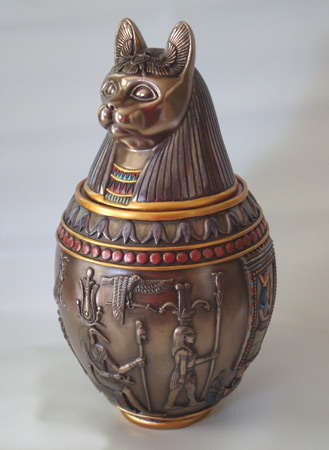 Because of its classic canopic jar shape, and its colorful, traditional styling, the Ancient Egyptian Bastet Pet Urn one of our most popular pet urns. It measures approximately 10" high and 5" wide, and can hold the ashes of a 60-pound pet.
Here are some comments from buyers of this pet urn. Emily Meeker wrote, "I recently purchased and received this beautiful urn. I've never had to make after-life arrangements and finding a new vessel for my beloved Comet that fit us both so well, (he is depicted as Bast on my back in a tattoo, done years prior to his health failing and death) made the process less painful. Thank you so much."
Jackie Eastwood shared, "I LOVE this urn! It's beautiful and well made! I also purchased the Egyptian cat urn, which I also LOVE! And they came so quickly. They came in four days and that included the weekend. Thank you!"
I'm in agreement with both Emily and Jackie; this is a very beautiful urn. But others have been more enamored with the unusual 'box' styling of our Bastet Egyptian Cat Box for Ashes.
Perhaps it's because it's possible to personalize the urn with up to two lines of engraving (with a maximum of 33 characters for each line). Also, the fact that its size makes it suitable for the ashes of either a pet or a human being may have something to do with its popularity.
Another very popular urn in our collection is the Egyptian Pyramid Small Pet Urn.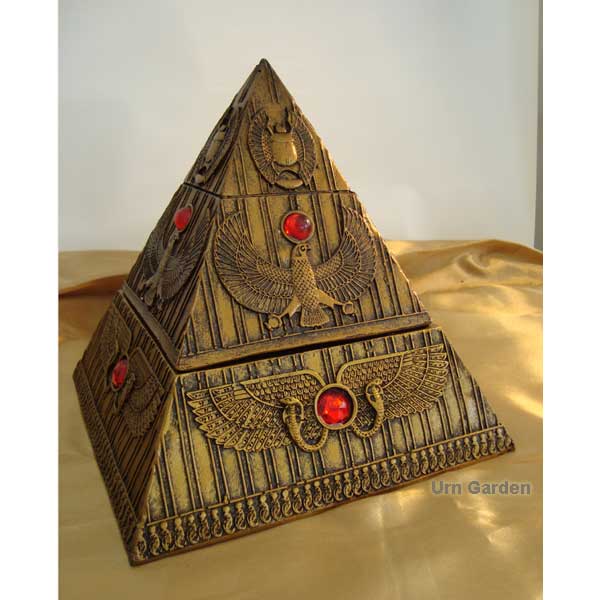 It's diminutive; just 8″ high x 8″ wide x 8″ deep. You might be interested to know the number 8, is important in the ancient Egyptian mythology of the Ogdoad representing the eight primordial deities responsible for the creation of the worlds (source). Tina Vigilante spoke for many of our customers when she wrote, "I cannot tell you how pleased I am with this Egyptian urn! It is utterly gorgeous! A magnificent final resting place for my beloved kitty! Came wrapped very well too! Thank you soooooooo much! I am recommending you to all my friends and family members!"
The last Egyptian cat urn for ashes in today's gallery is the Elegant Black Cat Cremation Urn.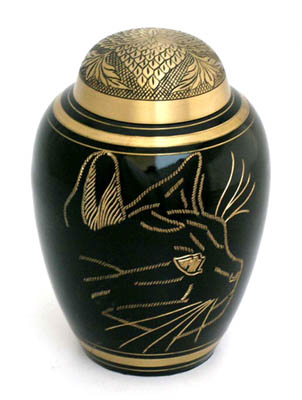 Hand-engraved; the urn is 5.5" high and 3.75" wide; made of solid brass with a shiny black enamel overlay. Despite its apparent small size, it will hold the ashes of a cat weighing up to 25 pounds. Like the Bastet Egyptian Cat Box for Ashes. This pet urn can be personalized with one line of engraving on the back side. In April of 2017, Becky Henshaw shared her delight with this urn: "Thank you so much for this wonderful urn! It was just I wanted for my little fur baby. It's well-made and elegant."
Capturing the Excitement of Discovery and the Mystery of Ancient Egypt
If you're anything like me, you'll love these words, from Howard Carter's The Tomb of Tutankhamen, largely because they capture the awe he felt that day back in November of 1922:"…as my eyes grew accustomed to the light, details of the room within emerged slowly from the mist, strange animals, statues, and gold – everywhere the glint of gold. For the moment – an eternity it must have seemed to the others standing by – I was struck dumb with amazement, and when Lord Carnarvon, unable to stand the suspense any longer, inquired anxiously, 'Can you see anything?' it was all I could do to get out the words, 'Yes, wonderful things."
It's been almost 100 years since Carter's discovery; yet that sense of astonishment is, at least for me, still very real. Perhaps the same is true for you.