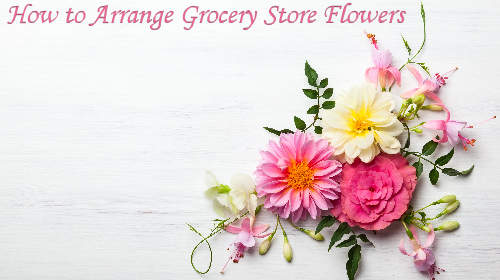 Today, as a practical follow-up to January's post, DIY Memorials: How to Make a Memorial Shrine, we're going to look at how to 'make the most' of grocery store flowers.
I don't know about you, but 9 times out of 10, I buy cut flowers from one of our two local grocery stores. (There's also a liquor store which sells bouquets – so that makes three sources.) I guess you could say my choices are limited. Perhaps yours are too.
It used to be, when I was a regular visitor to our weekly Farmer's Market, I was able to hand select the blooms I desired to create an especially unique bouquet. The story is different now – and yours may be; too. Today, the question is "How can I turn ordinary grocery store flowers into 'something special'? It starts with picking the freshest blooms.
How to Pick Grocery Store Flowers
Rachel Cho, in the 2017 Huffington Post online article "Pick Your Grocery Flowers Like a Pro! 4 Quick Tips for Better Store-Bought Blooms", offers readers these guidelines for choosing grocery store flowers:
Don't just look at the flowers – pay attention to the foliage and stems, too. You don't want them to be dried out; but you also don't want them to be "mushy and slimy" (that means there's damaging bacteria in the water). You want "green, solid stems and foliage" to ensure healthy flowers.
Choose flowers carefully. Now, look at the blooms. You want "blooms that are neither too opened, nor too closed." Flowers in full bloom won't last long; and tightly-bound buds may never bloom.
Look for seasonal flowers (locally grown (if possible). "Just like vegetables and fresh fruits, the ones that are tastiest and sweetest are the ones in season."
I would add one more tip: talk to the store manager (or floral department manager, if the store is big enough to have one). Ask him or her about floral delivery days and times – to make sure you get the freshest possible flowers.
How to Arrange Grocery Store Flowers
Once you've got your flowers home, you want to start by gathering everything together: nippers, a vase (filled with preservatives and nutrients); and a protective covering for your table top. Now, it's time to trim the stems–and experts say it's got to be done right. According to John W. Kelley, of Clemson University's Department of Horticulture, cutting flowers correctly can extend blossom life 18%-32%.
When it comes to trimming, here's what he recommends:
Fill a basin or clean sink with lukewarm water.
Place the flower stems into the water, and cut each stem at a sharp angle (to increase stem capillary surface area); 1 or 2 inches from the cut end.
Or, he says you can leave a steady stream of water running from your faucet, and hold the stems underneath the water as you cut them.That seems a bit wasteful to me, though.
When it comes to learning how to arrange flowers, there's no better means of instruction than video. I found two especially helpful: Architectural Digest's (Re)Arranging Grocery Store Flowers with Oscar Mora

and Good Housekeeping's visual presentation, DIY Gift Idea – Grocery Store Flower Makeover. For those who prefer text-based instruction, I thought the Curbly article, How to Make Fabulous Floral Arrangements with Grocery Store Bouquets well-worth reading.
Now…How to Keep the Blooms Fresh
Basically, there are two things you need to do to keep your grocery store flowers fresher, longer. First, you want to start out by:
1.) Reducing the amount of bacteria growth in the water, and
2.) Providing a source of energy for 'blooming power'.
Banishing Microbial Gremlins
When it comes to cutting back on bacteria, according to the Reader's Digest online article, How to Make Flowers Last Longer: 8 Pro Tricks, you minimize bacterial growth by adding one of these to the water: 1 tablespoon of apple cider vinegar, a few drops of vodka, one aspirin, three drops of bleach or, (believe it or not), a few pennies to the water.
Feeding Your Flowers…and One More Tip
As you're probably already aware; for excellent (short term) plant nutrition, it's a cube of sugar – or about ¼ cup of (sugary) soda. But, here's something you may not know (I didn't): you can use a burst of hairspray to keep flowers looking fresher longer. The authors advise standing about "a foot away" to give the undersides of the leaves and petals a "quick spray".
I've not had hairspray in the house for years; I guess I now have a good reason to go out and buy some!
Maintaining the Bouquet
Remembering one of your very first actions after arriving home with your flowers (trimming stem ends); as your bouquet matures, you want to ensure the flow of water to the bloom. That means you'll want to regularly change the water and trim the stems. This will necessitate the re-arranging of your original bouquet which – if you're using it as part of a memorial shrine – means you have recurring opportunities to connect at the heart-level with your loved one.
Floral Urns Offer an Alternative to Grocery Store Flowers
If you'd like flowers on a loved one's memorial shrine but don't always have access to fresh flowers, why not consider using a floral urn as the focal point? I especially like these two; each has a unique "feel" and would add elegance and beauty to any setting, including an indoor memorial shrine.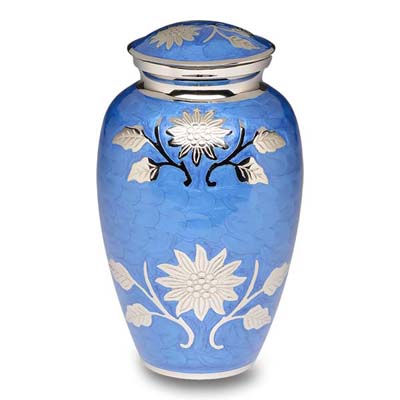 I think the Blue Sapphire Adult Urn for Ashes would enhance a shrine with East Asian overtones. For a more traditional setting, it's the Carolina Rose Cremation Urn. If neither floral urn strikes your fancy, here at Urn Garden (not surprisingly), there's a virtual garden of beautiful floral urns to choose from.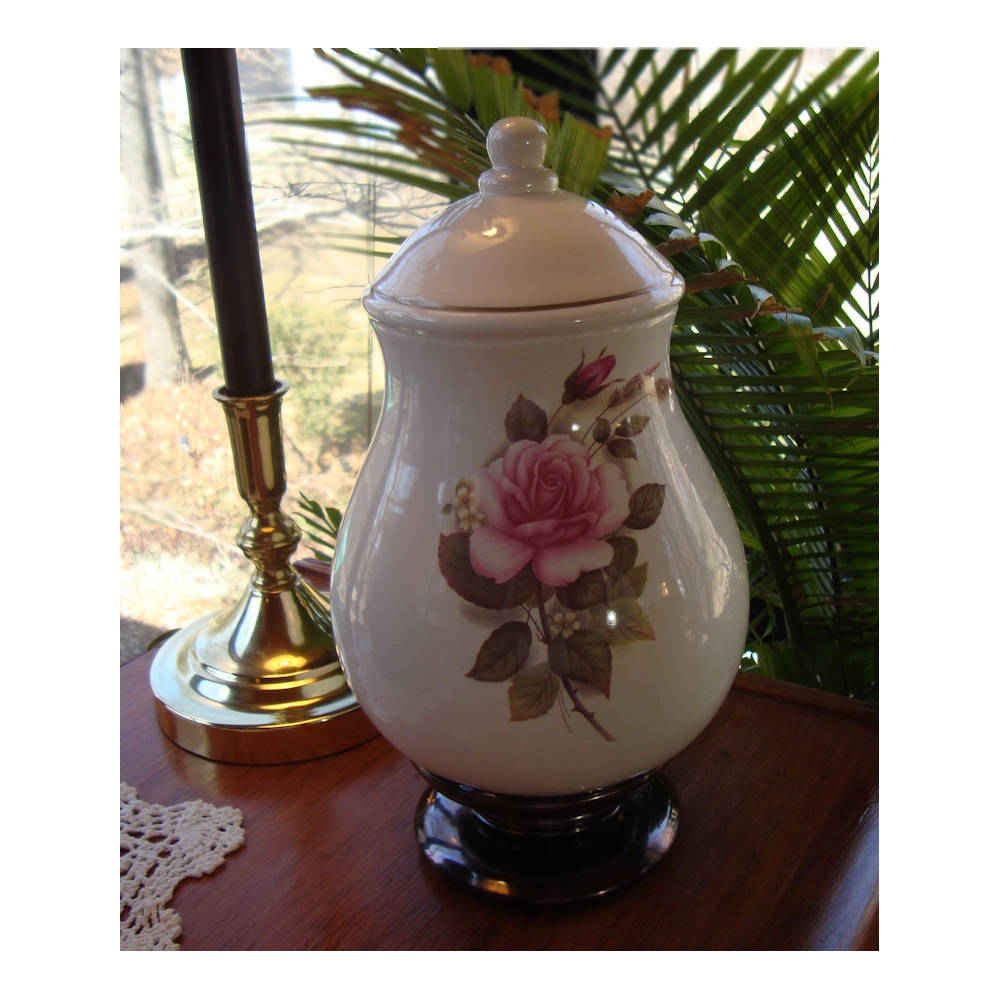 How to Make Flowers Last Longer: 8 Pro Tricks
Your posies and other cut flowers will last longer if you add a copper penny and a cube of sugar to the vase water. The copper in pennies is thought to act like an acidifier, which prevents the growth of bacteria.
Make your own preservative to keep cut flowers fresh longer. Dissolve 3 tablespoons sugar and 2 tablespoons white vinegar per quart (liter) of warm water. When you fill the vase, make sure the cut stems are covered by 3-4 inches (7-10 centimeters) of the prepared water. The sugar nourishes the plants, while the vinegar inhibits bacterial growth. You'll be surprised how long the arrangement stays fresh.