Despite the loss of so many talented musicians in 2017, something wonderful happened this summer in that I rediscovered some of the artists and realized what had been missing in my life the last few years. Music.
This was a hard and even a little embarrassing post to write. It's taken a while to compose.
Tom Petty, Chuck Berry, Glen Campbell, Mel Tillis, and so many more that were the soundtrack of my life. Despite having David Cassidy's poster on my wall in the early days, for some reason, Gregg Allman's death hit me the hardest and it surprised me. I was just a kid when I first heard of him and honestly didn't pay much attention to his music, I was more interested in Elton John.
Shortly before Gregg Allman died, the Big Interview with Dan Rather aired on AXS and reintroduced me to Gregg. I was captivated and maybe a little haunted.
This is my first memory of Gregg Allman. The costume. The tight smile when the shot opens. You can tell he's nervous. But then his fingers hit the keys and he relaxes.
I was 12 years old and back then, I was crazy for the Cher show, her costumes, and yes, even her music. I had read in People magazine that Cher had married Gregg Allman.  At that time, the only thing I knew about Gregg Allman was that he was a rock star and a heroin addict.
So after all these years it was good to see the mature, clean, and seasoned Gregg. He was known for sometimes being a difficult subject to interview depending on his mood. Dan asked many of the same questions that many reporters have asked over the years, but older Gregg seemed relaxed and graciously told the stories.
I had to read his book, My Cross to Bear, which was followed by several others, including Gladrielle Allman's beautifully written memoir to her father, Please Be with Me: A Song for My Father, Duane Allman.
In addition to the beautiful music that has been the soundtrack of my life for the 40 years, I realized that Gregg Allman represents a kind of spooky beauty and a complete paradox of what I would consider attractive in a man. He is one of the most beautiful creature I have ever laid eyes on and his music stirs my soul. He clearly stated that he was no angel!
The deep feeling of loss has surprised me. I've been mourning since the end of May when he died. Listening to the music. Reading and learning. Discovering that he'd written some of my favorite songs and I didn't even know it. Finding out that I like the Blues. Didn't even know it.  Realizing that he played here in my town last year almost to the day he died and I didn't see the show.
Now, as a middle aged woman, I have a poster of Gregory Allman in my office. It's the one that came with his farewell album Southern Blood. Allman and his daughter commissioned a portrait from award-winning surrealist Vincent Castiglia…painted with Allman's actual blood, and the blood of his children.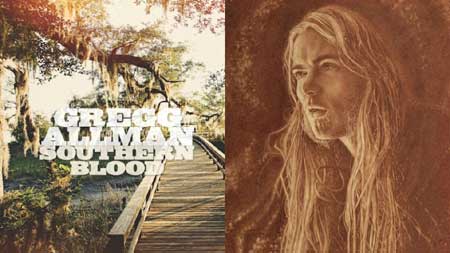 In the interview he mentions about how the music has the power to kill the pain. One of our customers must have felt the same way. They commissioned this wall mount guitar urn that had this quote by Bob Marley inscribed on the surface:
"One good thing about music, when it hits you, you feel no pain."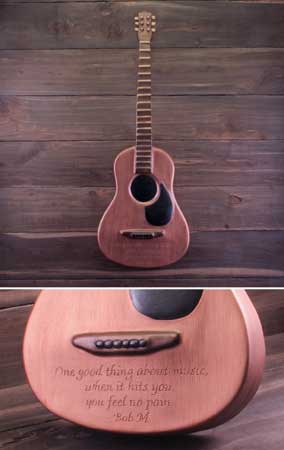 All this to say that we've been inspired to launch a music collection of cremation memorials that we will share later. But in the meantime, this goodbye song written and performed by Warren Haynes on the day Gregg died is a perfect example of beauty and art coming from a place of pain.
;