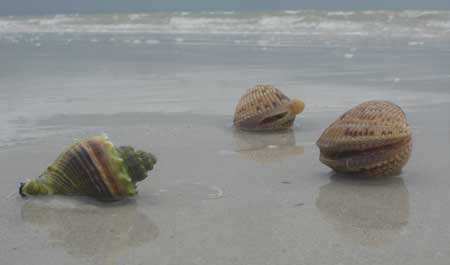 One of my favorite passages about the end of summer comes from American Novelist Jonathan Safran Foer. It comes from his book Tree of Codes: "August has passed, and yet summer continues by force to grow days. They sprout secretly between the chapters of the year, covertly included between its pages." (Source)
I hope, wherever you're experiencing the end of summer, you can still pause to enjoy those few remaining summer afternoons 'sprouting between the chapters' of your year. Today, I think we'll celebrate one of the simpler joys of summer: collecting sea shells by the sea shore with a rather playful look at our shell urns. We'll start small, with our seashell cremation jewelry.
The first is our Sand Dollar Cremation Jewelry. It's available in in silver or gold. The small chamber within is perfect for a small portion of ash or memento.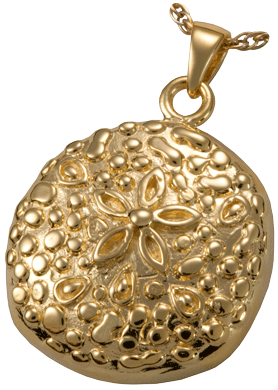 The pendant is ¾ in wide and 1 ¼ inches high: large enough to be engraved with up to 25 characters.
Sand dollars have deep significance for many Christians: it is said if you break the center of the shell five white doves will be released to spread peace and good will. According to others, the sand dollar represents the birth, death and resurrection of Jesus Christ. But for many of us, the beautiful sand dollar simply represents the carefree days of summer at the seashore with someone special.
"At first, we had collected only the larger specimens, but gradually as we learned what was rare and to be truly prized, we began to gather only the smallest sand dollars for our collection. Our trophies were sometimes as small as thumbnails and as fragile as contact lenses. Annie Kate collected the tiniest relics, round and cruciform and white as bone china when dried of sea water, and placed them in a glass-and-copper cricket box in her bedroom. Often we would sit together and admire the modest splendor of our accumulation. At times it looked like the coinage of a shy, diminutive species of angel. "~ Pat Conroy, The Lords of Discipline (Source: Goodreads)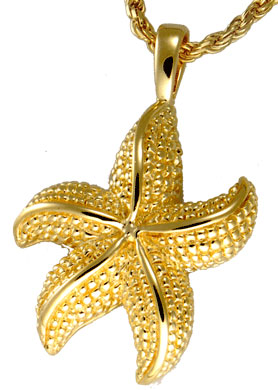 This next piece of seashell cremation jewelry is one of my favorites. It's the Starfish Memorial Urn Jewelry Necklace. It's made of stainless steel, and is the same size as the sand dollar pendant: ¾ inch wide and 1 ¼ inches high. Again, it's only large enough to hold a trace amount of ash (or other small memento). The necklace comes with a complimentary chain and presentation box–making it a lovely memorial keepsake gift for extended family or friends.
Finely detailed, this sea shell urn features a delightful starfish which, because of its ability to regenerate a limb, is a symbol of healing and renewal. For me, it's a reminder of our ability to recover from loss.
Now, let's have a bit of fun. Do you remember the old tongue-twister "She Sells Seashells by the Seashore"?
She sells seashells by the seashore,
The shells she sells are seashells, I'm sure.
So if she sells seashells on the seashore,
Then I'm sure she sells seashore shells.
Just like lots of folks, I've always thought it was a 1908 song based on the life of a remarkable amateur paleontologist: Mary Anning. Well, It seems we're all wrong: Stephen Winick, in the 2017 Library of Congress online article "She Sells Seashells and Mary Anning: Metafolklore with a Twist" proved otherwise. Live and learn.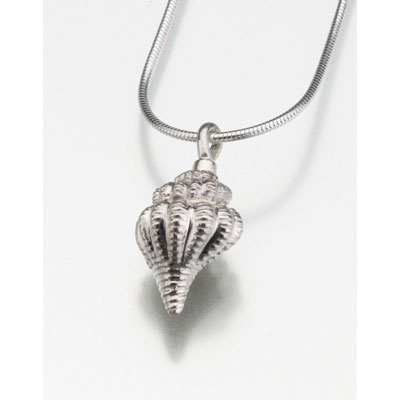 This next piece of seashell cremation jewelry is a tiny treasure. The Silver Sea Shell Cremation Jewelry is a sterling silver conch shell measuring just over ½ inches wide and high. For Buddhists, this seashell signifies truthful speech and strength.  In the Hindu tradition the conch, or Shankha, is a sacred emblem of the Hindu preserver god Vishnu. (Source)
Our Silver Sea Shell Cremation Jewelry is hand-crafted in the U.S.A. by skilled artisans. It comes with a complimentary black silk cord.
Next time, we'll continue our look at shell urns, with a focus on our collection of seashell biodegradable urns. Until then, repeat after me: "She sells seashells by the seashore…"