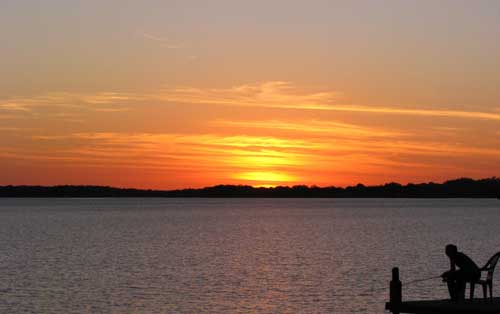 Here's what I've learned about those who love bass fishing: the men and women who have a passion for the sport have a positive attitude and an optimistic nature. How else can you spend hours waiting and hoping for 'the big one' to strike your lure?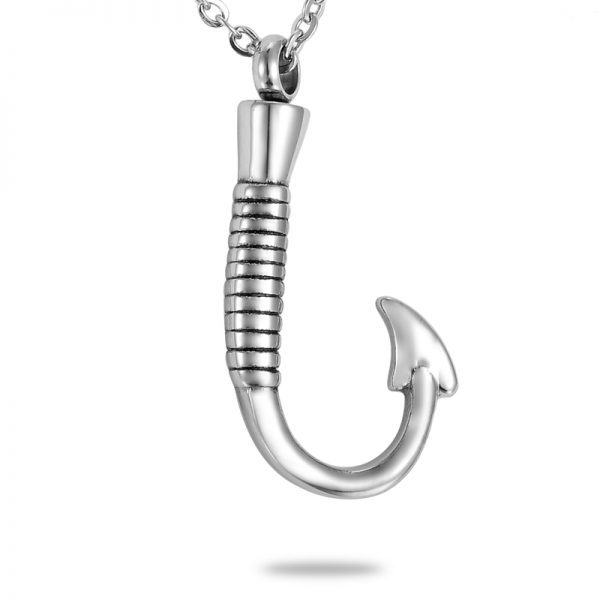 If this describes someone in your family who was an avid bass angler during their lifetime, you should know this is the best time to buy a bass urn to commemorate their commitment to the sport. That's because two of our family favorites are on sale.
The conversation I profiled in "A Unique Bass Urn: Perfect for the Bass Fishing Enthusiast" made me realize how meaningful a fishing urn can be for the survivors who are left to deal with their grief. That's why I decided to lower the price of our two most popular bass urns.
The first, our White Bass Fishing Cremation Urn is of metal, covered with glossy white enamel. Inlaid mother of pearl creates the silvery, energetically leaping bass. Mother of pearl has a glowing characteristic and changes color depending on the lighting. This bass urn will hold the ashes of an adult, and can be personalized with free laser engraving.
People are happily surprised when they see this bass urn for the first time. Perhaps Maria said it best in her five-star review:
"Wow, so much better than the picture!"
I'll admit, the picture here doesn't do this bass urn justice. It's almost impossible to capture the shimmering liveliness of the inlaid mother of pearl. Maria went on to say, "We knew we wanted a fishing theme urn for dad, and this was what we picked. We had it engraved and it turned out nice. Thanks Urn Garden, we were having a hard time and you really helped."
Maria, believe me when I say it was my pleasure.
If you read "A Unique Bass Urn: Perfect for the Bass Fishing Enthusiast" you'll no doubt remember this next bass urn. It's the Bass Fishing Mini Urn for Ashes.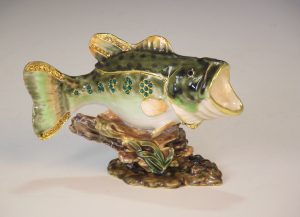 Just three inches long and two and a half inches high, this hand-painted keepsake urn is studded with green crystals and is perfect for a small portion of ash, lock of hair, or other memento.
It's one of our most popular bass urns and is exclusive to Urn Garden. Earlier this year, Kathy gave a 5-star review: "This mini urn is beautiful, better than the picture, and is a fitting tribute to anyone who loved fishing. I am so grateful that you have this item."
Two years earlier, in 2015, Pam had this to say: "Very pleased with my purchase of the Bass Fishing mini urn. It is the perfect size for my intentions. Well-made and a very nice weight." She also gave the urn a 5-star rating.
If you're looking for cremation urns on sale and think a bass urn would be a perfect tribute for the angler in your life, let me remind you: both the White Bass Adult and the Bass Fishing Mini are on sale for a limited time.