Purple is a magnificent color combining the calm stability of blue and the fierce energy of red. Long the choice of royals and the wildly ambitious (think Cyrus, King of Persia, and Alexander the Great, both of whom often wore purple garments); the color is also believed to uplift the spirit and calm emotions. It is also thought to encourage creativity and inspire spirituality. For any (or all) of these reasons, for many people, purple is the perfect color for a loved one's cremation urn.
Sugar Plum Adult Purple Urn for Ashes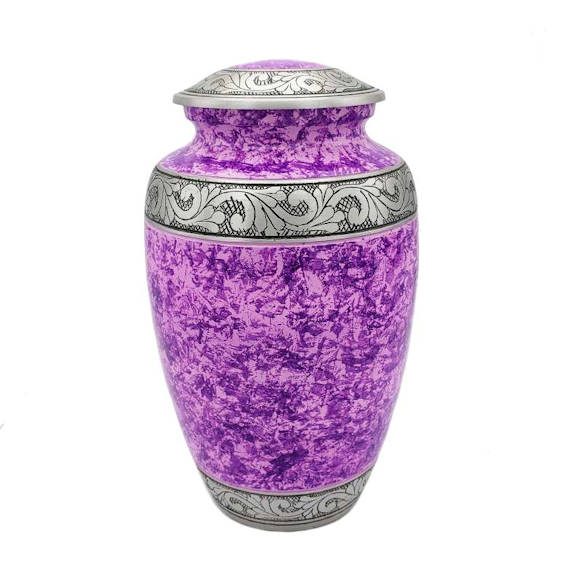 Sugar Plum is a mix of purple and lavender that contrast nicely with the hand engraved trim.  In addition to the adult size, Sugar Plum also comes in a mini token size for keepsake portions of cremains. 
Purple Cremation Urns as Expressions of Gender and Personality
Because it's masculine in its strength and intensity, yet taps into the feminine qualities of mystery and majesty; a purple cremation urn is an appropriate repository for the ashes of either a man or a woman. Here are two examples:
Purple Fire Adult, Medium, and Heart Urn Collection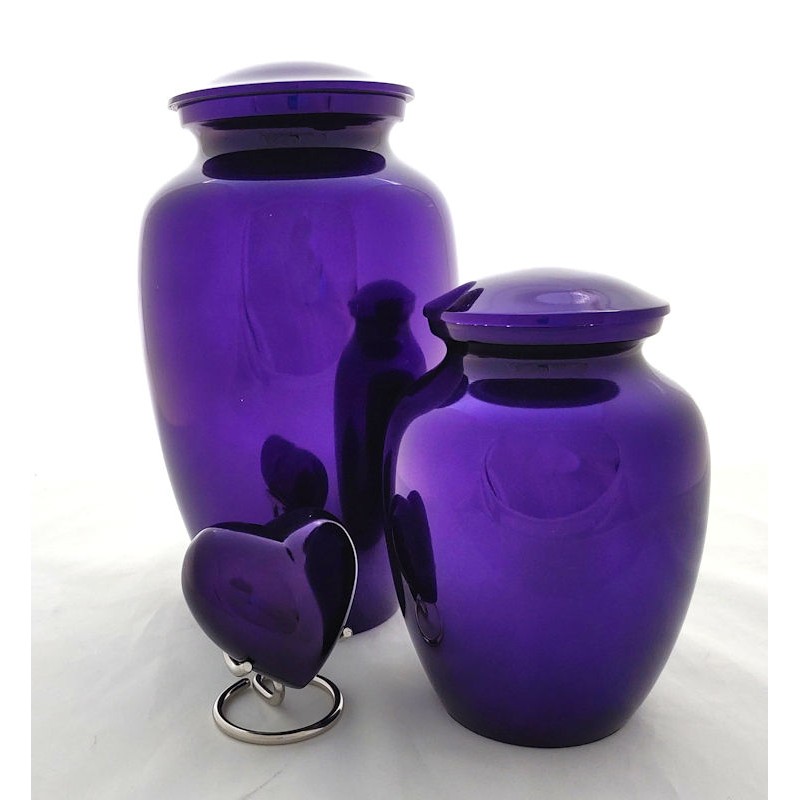 This beautiful dark purple urn with glossy finish is stunning and engraves beautifully. It comes in 3 different sizes and is suitable for humans or pets. 
Elegant Purple Urn for Ashes
With hand-tooled pewter accents, this cremation urn is intended for safekeeping the ashes of an adult. Displays nicely at the funeral, as well as in the home. Suitable for burial.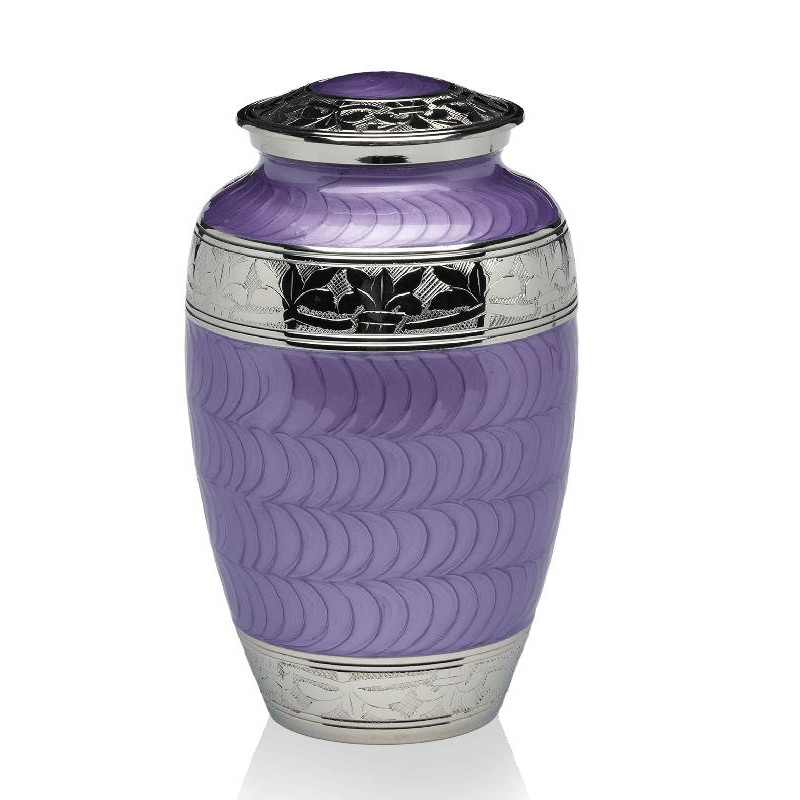 In comparison, the purple Siesta Key keepsake urn – softly rounded heart shape, could be for a man or woman. Small in size, this little heart shaped urn is perfect for families that want to divide or share some of the ashes. Inspired by those beautiful beach sunsets, this is a popular style with our families.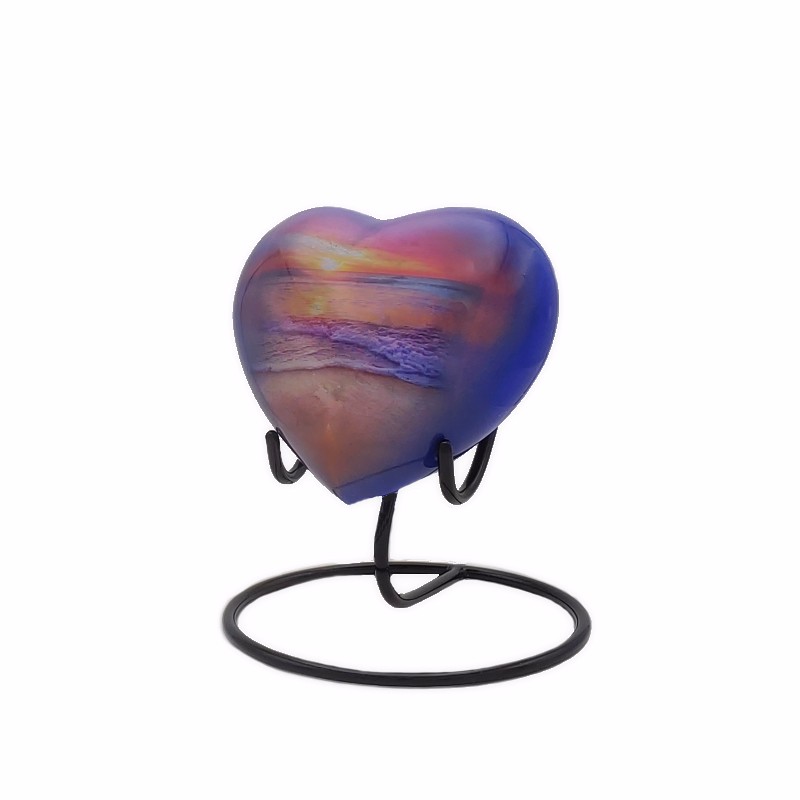 Purple Cremation Urns as Spiritual Expression
In many cultures and religions, purple denotes virtue, faith, patience, and trust. The next purple cremation urn, available in two sizes, signals that this is a time of spiritual reflection and illuminates the way forward through bereavement to healing. 
Morning Glory Cremation Urn 
This is a full size adult urn that can be personalized with names and dates if desired. Pretty dark lavender with gold trim top and bottom.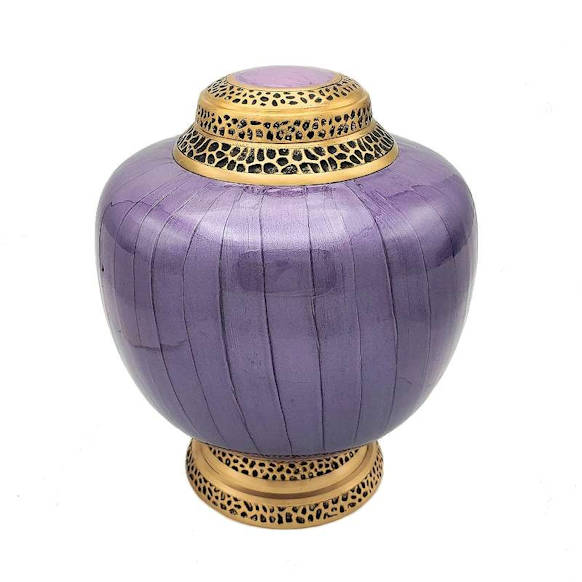 Using a Purple Cremation Urn in Interior Design
When it comes to interior decoration, any one of the purple cremation urns you've seen so far would work beautifully as an accent piece in a room dominated with gold, white or cream colors. Purple also blends and enlivens a room where the prevailing colors are blue, grey or brown.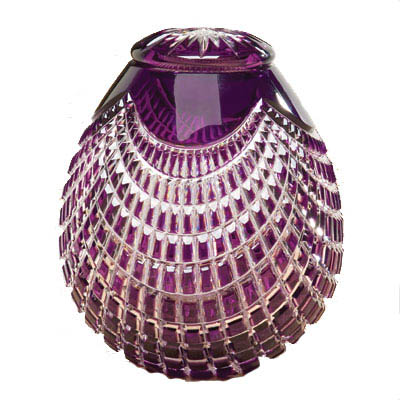 Consider this gorgeous Caesar lead crystal purple urn, hand-produced by Bohemian glass artisans. We believe its design is reminiscent of a beautifully crafted open-weave basket. This urn is also unique in that the cremated remains are secured in a white satin pouch which adds contrast, highlighting the "weave".
As I mentioned ten years ago in The Power of Purple, Urn Garden was among the first to offer purple cremation urns. The three you've seen here are just a small sampling; which makes it natural to invite you to explore our wide collection of purple urns for ashes as well as intriguing designs in our jewelry department.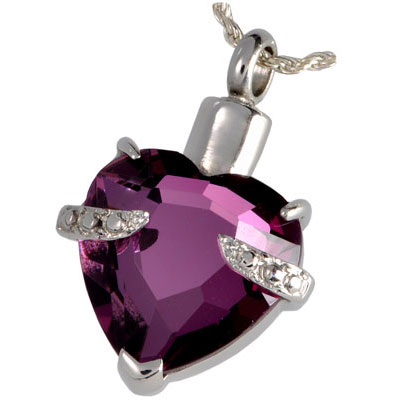 Whether you're interested in using a purple urn as an element in a room's interior design; or if it would have a deeper personal significant to you (as it did for Sarah, in Heart-Shaped Urns: A Love Story), I'm sure you'll enjoy viewing this collection.