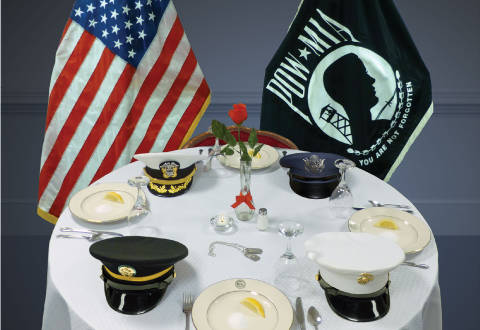 One of the local restaurants in our town recently dedicated a table to the missing men and women lost but not forgotten fighting overseas for our country. It's estimated that there are at least 100,000 prisoners of war still unaccounted for. The group set up a single table that will remain a permanent installation at the restaurant to serve as a reminder to those dedicated individuals. Each element in the place setting has meaning:
A round table represents unending concern for the POWs.
A white tablecloth symbolizes the purity of the soldiers motives when answering the call of duty.
A black napkin is for the "dark hearts of some politicians" and government leaders who have either forgotten or neglected bring our soldiers home.
A red ribbon tied around a vase is a symbol of the chapter's determination to account for the missing.
A lemon slice on the bread plate is the bitter fate of those captured and missing in a foreign land.
A pinch of salt on the bread plate is the tears endured by the missing and the families that look for answers.
A bible on the table is a symbol of strength through faith and a country founded on "One Nation Under God."
A glass placed upside down symbolizes the POW-MIA absence from the table and unable to share in the meal.
A chair tilted against the table is the empty chair for the missing soldier. A place has been saved for them, they are not forgotten.
And finally, a candle that serves as a Light of Hope that lives in the hearts of friends, family, and a grateful nation.
This restaurant is in my neighborhood, and I confess it's not one that I frequent often, however, I was so touched by this presentation that I will probably visit just to show my support.