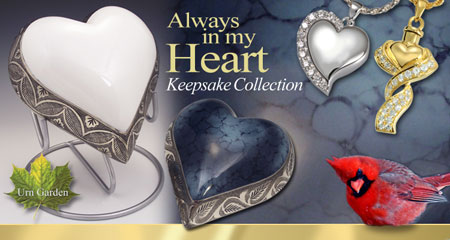 To celebrate the season of life we have a heart shaped collection of urns, jewelry, and keepsakes for cremated ashes. These urns come in various sizes but the symbol of love remains the same.  This year we're pleased to roll out a couple of new styles of adult size urns that will be coming soon in the classic heart design.  Three popular colors are offered in deep purple, snow white, and ruby red. These are free standing, with rich powder coated finishes and each urn has a touch of bling, with a small crystal added for extra sparkle.
Mystic Blue sharing urn is a small size urn that holds a couple tablespoons of ashes. This urn can be displayed with or without stand and although the heart only measures about 3 inches across, it fits in the palm of your hand. It's a heavy metal that has been hand engraved and professionally painted in deep shades of blue and could be engraved if the family wanted to personalize the memorial. Sadly, some families have used this as a vessel for the ashes of a child or beloved family pet.
In addition to the medium heart, Mystic Blue is available in a full size vase shaped adult urn and comes in other colors, like pink and white. The white heart is popular as it suggests purity and only comes in small sizes to use as a keepsake. Families who prefer a crisp elegant white color can buy vase shaped styles on our website that will contain a full set of adult ashes.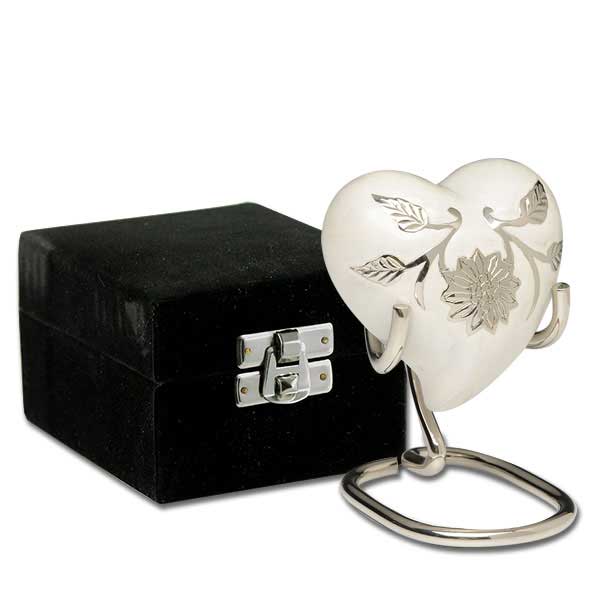 Some families like the idea of cremation jewelry and there are several adaptations of the heart pendant.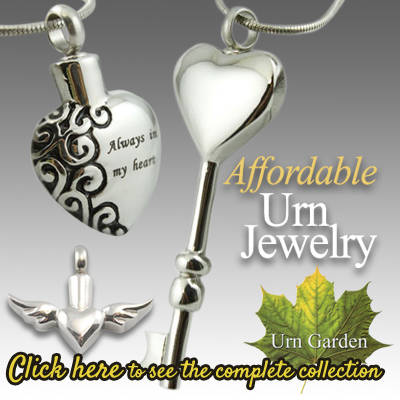 The urn pendants hold only a trace amount of ash. One of the most popular styles is the puffy heart pendant in either silver or gold.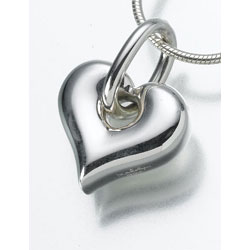 If the idea of cremation jewelry is not your style, or you want a keepsake that holds more than a scant amount, the small heart shaped keepsake urns might work. These fit in the palm of your hand and hold a couple of tablespoons of ashes. These are good for scattering or burying at a later date. The hearts come in assorted colors, but the small blue heart that matches the larger one pictured above or this little silver one are popular choices for families that want to retain a bit of the cremains for a memento.
Other colors like soft pink and baby blue are also popular in the small heart collection.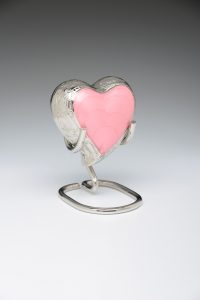 For even smaller amounts, the Tender Heart ring might be a consideration, depending on your lifestyle. Rings and pendants only hold trace amount.