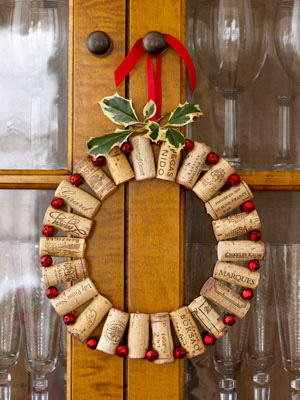 For a simple earth friendly wreath, get out your glue gun and get busy on a cork wreath!  This is a leaner, cleaner version of the chunky cork wreaths that you see crafted. Several wine drinkers that I've known like to save their corks and some super sentimentalists will even mark the cork with the date of an especially momentous occasion.
Wreaths are a good way to add a soft symbolism to a memorial service or ash scattering ceremony. By making a few adjustments, the cork wreath can be created from all biodegradable materials. If your memorial service is on the water, the wreath would float but keep in mind that it would take a long time for the cork to break down.
Here's what you need to you make one:
Wine corks
Cranberries, or beads if desired.
Pencil
Heavy thread, wire, or fishing line
Ice pick or awl
Large sewing needle
Holly or other plant or flower for the season
Ribbon
Arrange your corks and berries into the desired arrangement.
With the pencil, mark the corks where they will be drilled.
Use ice pick or awl to drill holes.
Start running wire through the corks and berries to secure placement.
Tie it off, use the ribbon to make a hanger, add the flower. You're done!