We recently served a family who wanted to create a cremation memorial that really captured the essence of their husband and father.  He was a sportsman, lived in a rural area and loved the outdoors. Hunting and fishing was a religious experience. Originally, the widow inquired about a bronze eagle urn, she liked this urn because her husband had an eagle tattoo on his chest. But what she really wanted was an urn with the image of a deer on it. The area they live in is loaded with deer and her husband always looked forward to deer season.
This bronze deer urn sculpture was more in line with what she had in mind.Hi, just wanted to let you know the deer urn did arrive and it is beautiful, I DO love it! I wanted to thank you again. Lori C., Ohio
The deer urn was a custom piece that took a couple of weeks to produce. The timeline and budget may not suit the needs of families that needs an urn shipped quicker. We carry a camouflage line of urns that would work as a memorial for a hunter or fisherman.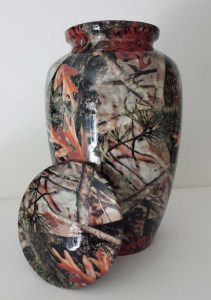 Camo patterns in a brushy woodland perfect for game hunters. These are metal urns, that are dipped using the water transfer process, the same style used in camo coating ATV's, and vehicles. The woodland pattern comes in a small size for sharing the ashes or could be used for a pet. Secured with a threaded lid on the top.
For duck or other water fowl enthusiasts, this sunset scene is beautiful and can be personalized with laser engraving.
An underwater fishing scene is a favorite with families that are paying tribute to an angler. This box style urn is made in America and professionally painted with tough metallic paint and with a trophy bass taking the bait. Fits nicely in a niche at the cemetery or suitable for home display. Our engravers can create a name plate that can be mounted on the top.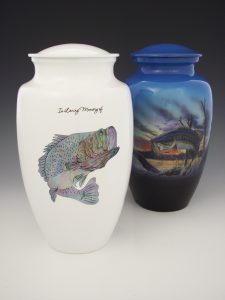 Depending on your taste and style, there are many options to commemorate the life of your favorite sportsman. We can help.