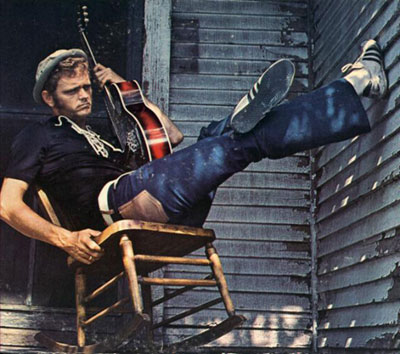 You guys! How did I miss it? Jerry Reed? Loved him, and had the 8-track to prove it.
From Wikipedia:
Jerry Reed Hubbard (March 20, 1937 – August 31, 2008), known professionally as Jerry Reed, was an American country music singer, country guitarist, session musician, songwriter, and actor who appeared in over a dozen films. As a singer, he may be best known for "Amos Moses", and "When You're Hot, You're Hot", for which he received the Grammy Award for Best Male Country Vocal Performance in 1972 and "East Bound and Down", the theme song to the film Smokey and the Bandit in which he portrayed the "Snowman", Cledus Snow.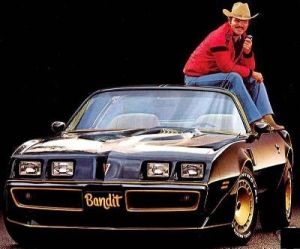 In 1967, Reed notched his first official country chart hit with "Guitar Man," which Elvis Presley soon covered. Presley had come to Nashville to record in 1967, and one of the songs he was working on was "Guitar Man," which Reed had written and recorded. "I was out on the Cumberland River fishing, and I got a call from Felton Jarvis (then Presley's producer). He said, 'Elvis is down here. We've been trying to cut 'Guitar Man' all day long. He wants it to sound like it sounded on your album.' I finally told him, 'Well, if you want it to sound like that, you're going have to get me in there to play guitar, because these guys (you're using in the studio) are straight pickers. I pick with my fingers and tune that guitar up all weird kind of ways.'"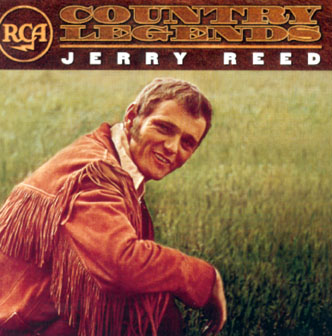 From the Tennessean: There were plenty who never knew of Mr. Reed as anything more than "The Snowman," or as the coach in The Waterboy. He was funny, and an entertainer, he fully understood that most of the general public didn't know that he was one of the most compellingly original guitarists of all time, and he was fine with all of that.
Mr. Reed's only regret regarding the guitar was that his declining health meant he could no longer play. Making music would have been a comfort in his final months. Instead, he enjoyed the company of family, and the visits from old friends.
And on an August day, Reed told his old friend, Bobby Bare something he'd been thinking a lot about: the fact that everything he'd ever dreamed had come true.
Reed died in Nashville from emphysema.