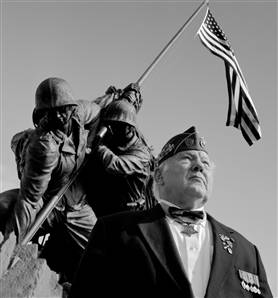 Private First Class, U.S. Marine Corps 1st Battalion, 26th Marines, 5th Marine Division
Jack Lucas was a cadet captain in the military school where his mother had enrolled him after his father's death when he heard radio reports of the Japanese attack on Pearl Harbor. The next day he promised his mother that if she let him enlist, he would come home after the war and finish his education—but he wound up forging her signature on the consent form because she would have to lie for him. Lucas, big for his age, told the Marine recruiters he was seventeen. Shortly before being sent to the training center at Parris Island, South Carolina, he turned fourteen.
Troops were moving out to Hawaii, but because of his experience in military school, Lucas was ordered to stay behind and drill new recruits. He knew his buddies were ultimately headed for combat, so he hopped onto the train with them—in effect going AWOL to get into the war. Once in Hawaii, he managed to convince officers that he was there because of a clerical error.
He was almost drummed out of the Corps when a censor read a letter to his girlfriend that mentioned his real age, fifteen by then. He managed to talk his way out of trouble again and was assigned a job driving a truck on the base.
A year later, when a large number of troops were being ferried out to ships in Pearl Harbor heading into action, Lucas stowed away on the USS Deuel, in effect going AWOL a second time. He slept on deck and scrounged meals from other men. When the ship was well out to sea, he turned himself in for fear of being classified as a deserter, and a sympathetic colonel decided that instead of punishing him, he would finally grant Lucas his wish of being assigned to a combat unit.
Not long after, the Deuel approached Iwo Jima. On February 19, 1945, five days after he turned seventeen, Lucas hit the beach with forty thousand other Marines, five thousand of whom would become casualties that first day of combat. The next morning, his unit destroyed a Japanese pillbox, then took cover in a Japanese escape trench, where eleven Japanese soldiers surprised them. The Marines and Japanese started firing at each other at point-blank range. Lucas shot one soldier in the forehead before his rifle jammed.
As he was trying to get it to work, he saw two Japanese grenades land near the Marine next to him. He dove down into the soft volcanic ash, covering the grenades with his body. One failed to go off, but the explosion of the second one flipped him over on his back and inflicted large wounds on his arm, chest, and thigh.
His chin was sliced open and one eye was forced out of its socket. He had internal injuries and was bleeding heavily from his nose and mouth. A Marine from a following unit, reaching down to take off Lucas's dog tags, saw Lucas's hand wiggle.
He was given a shot of morphine, carried back to the beach on a stretcher, and transferred to a hospital ship. At one point he was almost given up for dead, but the doctors kept working on him.
After hospitalizations in Guam and San Francisco, and several of the twenty-two surgeries he would undergo, he was discharged in September 1945. On October 5, at the age of seventeen, he received the Medal of Honor from President Harry Truman, making him the youngest recipient since the Civil War. Then, as he had promised his mother years before, he went back to school—a ninth grader wearing the Medal of Honor around his neck. He later graduated from high school and earned a college degree.
Jack Lucas died today at age 80, in Hattiesburg, MS.
Source: MSNBC