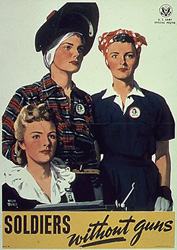 Three Beautiful Things:
Fresh Blueberries
Croquet on the lawn
Firing up the Grill
Two not so beautiful things:
Shaving the dog's butt
Applying ointment
Garden Update:
Irish Spring Cat repellent experiment: Only original scent bar soap will do. Liquid version ineffective. Today's brilliant idea: Colgate Palmolive should process Irish Spring in a shredded format and sell as a non-toxic cat repellent for gardeners.
And then this: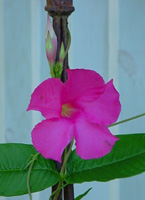 I've been waiting all summer for this Mandevilla to take off. Everything here is late blooming due to the ice storm and late frost. I was excited this morning to discover my sickly plant was now thriving.
Several of our associates are serious fitness gurus. Hit the gym twice a day, train, train, train. I admire the dedication and their triceps. But sometimes I like to kick it hillbilly style! A sturdy tree for stretching, a bench for dipping and maybe a big rock for stepping and you're set!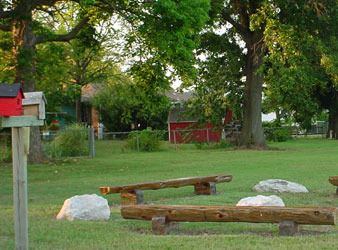 From the Sports Desk:
In a recent game Springfield Cardinals vs. Arkansas Travelers (the team that hit the killer line drive), none of the base coaches wore batting helmets. I know it was a freak accident, but still a scary place to be unprotected.
Today's tip for better living: Work on your Wind Release Pose.