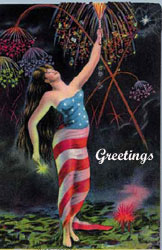 Working on our Meet the Artist series. Have a couple more to add as well as some new products we'll unveil later.
Speaking of new products, had an interesting conversation with a vendor who mentioned that the Life Gem folks have developed new technology that allows them to create the diamonds by extracting carbon from a lock of hair now. Interesting.
A week after the season finale of the Soprano's, I've had time to process the ending and for fans I'll include this link by a television writer who analyzes the series finale from a production point of view. 3000 words about 5 minutes of T.V. In retrospect the ending seems brilliant. That's all I have to say about the Soprano's. Done.
Dirtsister has several books on the nightstand that we substitute for Lunesta. One of them is called Crusaders. But it's the cover art that gets our attention.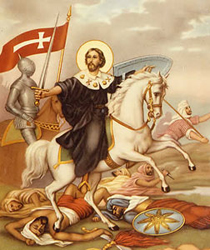 Is it possible that the artist is winking at us? Or is it just my perverted mind that draws my eye to the rider's foot?