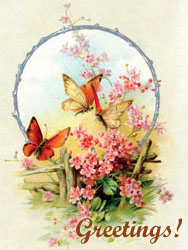 It's Sunday, and shortly after daybreak in Signal Hill. Bargain hunters sift through boxes containing all that is left of a few lives.
Dozens of oil paintings and hundreds of pieces of pottery, polyester shirts with winged collars, campy 50's lamps, and Navy footlockers that have never been opened.
It's the stuff of a retired Navy commander and his wife who died within days of each other, and 2 men who succumbed to AIDS.
While shoppers with sleepy eyes sip coffee from Styrofoam and lazily rummage through the heaps, organizer Ken McKenzie keeps things running in front of his Orange Avenue mortuary. A sign above him explains that proceeds will go to AIDS hospices.
This isn't your ordinary yard sale, but then McKenzie's not your ordinary mortician. He's become expert at taking the business of death and finding a positive somewhere in its midst. He refers to it as "a calling." He first answered it at 22, after his father committed suicide. He became a mortician to help others deal with losing a loved one, just as another mortician had helped him.
Opening his own mortuary in 1994, he halved the price of funerals by eliminating a chapel. The idea was to offer an alternative and pass on the savings to the community, which McKenzie says pays too high a price for burials.
Conducting visitations and memorials in the deceased's church instead of a home is uncommon in today's mortuaries, but already the idea is showing signs of changing the future of the business.
"I had 150 services in my first seven months, more than most small mortuaries have in a year," says McKenzie, who donates 3 percent of his professional service charges to the families' favorite charities.
Not bad for someone who didn't even understand the role as a mortician until he needed one.
This time around, McKenzie wants to give meaning to the lives of friends who've died of AIDS—more friends, he says than his grandfather has lost in a lifetime.
Sundays' estate sale allowed him to raise money for victims, while drawing attention to the hideous disease that's killing them.
The idea came about when he learned, coincidentally, that none of the executors involved had time to sort through their loved ones' belongings and sell what's left.
He offered to take care of the job for them, if they would agree to donate the proceeds to hospices.
Deal struck, McKenzie advertised the event, hung the sign in front of his mortuary, and rounded up volunteers to help sort and price the stuff.
By mid-afternoon Sunday, he counted $1,800 in his cash box, not including what he'll make in the yet-to-be-sold antique clothing, stamp and toy collections. You can bet this won't be the last AIDS sale he'll organize.
If he keeps it up, he may single- handedly restore public trust in a business badly damaged by the Paradise Memorial Park fiasco.
Maybe then he'll get a well-deserved past on the back from the peers who told him he'd never make it.
McKenzie who started his career with a sense of humor that has not only helped drive his success but has shed a positive light on the industry, was recently recognized for those achievements, earning the California Funeral Directors Association Funeral Director of the Year Award.
In 2006, McKenzie created and published the 2007 Men of Mortuaries Calendar, featuring shirtless, but shapely, morticians to raise funds for women going through breast cancer treatment.
The 2008 edition will be released in October, McKenzie said, adding, "the only difference is people wanted to see more skin."
The 41-year-old, who frequently works out at Gold's Gym, will be Mr. June in the upcoming calendar.
Doing the calendar has shown that funeral directors are people with a sense of humor, McKenzie said.
"I stepped outside of the box from what a normal funeral director will do and will not do," he said.
Now that's what I'm talking about…..
The next generation.