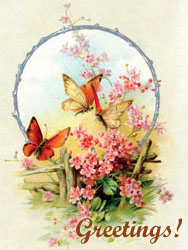 We rely on the I.S. department for a lot of the technical support for our business. When we started Life in the Garden, the help desk set it up and christened it cremationblog. Not the name I would have picked, but it's done and we're grateful for the help.
When you sell the product that no one wants to buy, you need all the help you can get. Although, this rag is a personal expression rather than a sales tool. My readership is growing, although I can't imagine why. We wanted stats and we got them. Vietnam and Japan? What's the attraction?
Maybe, I'm attracted to them.
We wanted to feature some of the families stories and experiences that brought them to us in the first place. With permission of course. We've met some interesting people along the way.
Like the customer that called from Albuquerque who was assisting in the arrangements of her brother who suddenly passed away. Turns out she's from Springfield, lives nearby. We'd never met until now.
Or the widow who called yesterday and was reeling from her 50 year old husband's suicide. She called her attorney before she called the mortician.
It gives me a new respect for the funeral directors that deal 24/7 in this grim business. A local funeral director once told me that the many funeral directors attend therapy and the suicide rate is high in the profession. I can see why.
And even more depressing for the funeral industry, shrinking profit margins.
So let's talk life, here's what I've discovered lately.
I can still do a cartwheel
The sound of a Black Hawk helicopter thumping low overhead.
Rediscovered my WWII propaganda collection, I'll be dragging it out later.
Life is good