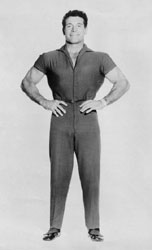 Greetings from the garden! It's been a nutty week and I'd like to focus on warm bodies. Let's study a couple of fine specimens.
Today we salute the Godfather of Fitness, Jack LaLanne. Only a real man wears a jumpsuit AND ballerina slippers!
Mother's work out centered around Jack, Elaine and their white German Shepard Happy in the privacy of our living room.
Love that name, Elaine Lalanne.
A troubled youth, Jack tried to burn down the family home and chased his brother with an ax before channeling his aggression into nutrition and fitness. In his 40's Jack started swimming distances handcuffed or towing cabin cruisers. In his 90's now, Jack still swims and lifts everyday. Very inspiring. There is hope.
Now let's look at my summer crush. One of them.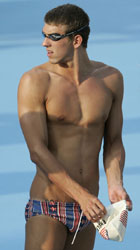 Dirtsister has never been fond of the Speedo. Until Michael Phelps. The beauty, strength and power of the human form. Check that wingspan!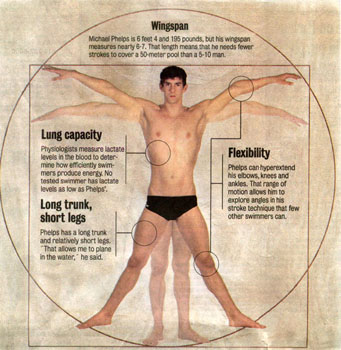 Moving along, a quick television note. We've got a couple of faves, but have never felt compelled to "save" a show. However, it is with great sadness that the Sopranos wraps this week. Also, very disappointed that two other HBO's must sees- Rome and Deadwood have been canceled.
HBO denies product placement in the Sopranos. But, it's hard not to notice the lingering tight shots of the Lexus, BMW, Cadillac, and Chevrolet medallions. Numerous mentions of brand name pharmaceuticals, Jimmy Choo, Snapple, etc. The sponsorship opportunities were pretty limited in Ancient Rome and Deadwood, SD.
But hey, we've got Big Love to look forward to. Someday, I'll figure out how to embed video into Word Press.
Today's tip for better living: Do some squats.