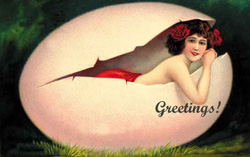 We're fascinated with all things Dubai.The sandlords, construction frenzy, the concept of "guest workers", The World real estate development, the artificiality, the MONEY.Dubai is a place where you can buy anything in the world except a decent book. Hot and cold running amenities and a running tab of heart-stopping expense.
Business Week says:
"Dubai, A Muslim country, stands out for its tolerance toward other religions. Unlike somber Iran and Saudi Arabia, Dubai allows alcohol consumption and turns a blind eye to a relatively unfettered nightclub scene."
Unless you have an Israeli passport, sorry, no entry to Dubai!
"I was evicted from my building a year ago by Rocky Real estate not because of making trouble but because I was guilty of being bachelor.Later on searching for apartments in Dubai , I noticed similar scene in many places. You goto a building with vacant apartment , watchman comes out with a big attitude and while he is pulling keys of vacant apartment he will ask you if you are bachelor, if yes , he would not even reply back . He would simply turn around and go back to his room.Not difficult to figure out … Dubai is big racist place and from my humble experience I figured following priorities:

1) Royalty
2) West Europe / American couples
3) Locals
4) European bachelors
5) Camels
6) Asian couples
7) Dogs
8) Jews
9) Asian Bachelors

Dirtsister couldn't take the heat in Dubai. You know it's hot when your sneaks blow out on the beach…and it ain't even summer yet.
Interesting blogs on the subject. And comment posted on blog mentioned above:
Nickname: Dubai-UAE
Review: I am proud to be from UAE. Our country was established just 36 years ago, and see what we have accomplished so far. Tolerance toward others is the true message of Islam. God bless UAE and Dubai.