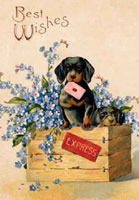 Inspiration comes from Texas and New Mexico. First up:
Conroe, TX, wife and daughters who lost hub and daddy. 67, retired educator. Four year battle with cancer, married for over 40 years. Even during his illness, they never discussed THE END. No will. No final arrangements. Until 2007.
No church service, no sad songs. Friends and family gathered on his birthday for a memorial celebration on their property which adjoins a park. Food, friends, pictures and memories.
The girls picked out cobalt blue crystal. The ashes will be divided among the keepsakes, the remainder to be co-mingled with his wife. She has written instructions for her daughters as to where she wants their ashes spread.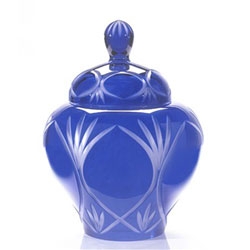 Urngarden wants to know: What's the secret to a long loving marriage?
The key seems to be communication, "fight it out"; but close with "I Love You".
And then the call from New Mexico:
Cremation has taken place, and there will be no funeral. A memorial gathering and celebration of ****'s life will take place at Reflections, 2400 Washington NE, at 2 p.m. Saturday, April 7, 2007; followed by a reception at the family home. Rather than flowers, her family suggests a donation in **** name to PB & J Family Services, Albuquerque, NM; or a charity of your choice.
He lost his wife on 3/31/07. She was 48. Today's her birthday.
We thank the families sharing their stories.
Non-profits will benefit from this trend, but the funeral and floral industry are trying to figure out how to deal with these families. Some of the funeral directors compare themselves to wedding planners.
Our thoughts on flowers, bring em on. Everything goes better with flowers.
Except for allergies.