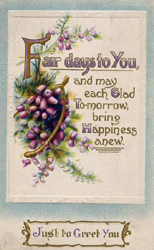 Greetings!
Just a couple of notes regarding marketing and customer service.
Today I called my merchant account services regarding a question on a credit card charge. First surprise: my call was answered on the first ring….by a real live warm body, transferred immediately to customer service where another pleasant voice took control and solved the mystery within three minutes! That's Innovative Merchant Solutions if you care. Fabulous!
Let's go to the mailbox:
State Farm is aggressively spamming this blog. That's not neighborly. When I see visitors from India, I usually suspect the State Farm call center, and I'm usually right.
Crafty American Express direct mail tactics. Here's the deal, we don't accept Discover or American Express. We used to, not anymore. The merchant gets hosed.
Obviously they want my business, the volume of mail I receive from these two is crazy! American Express is especially frustrating. The packets are over sized and so thickly padded so that you are forced to open, dismantle and handle the contents to spoon feed into the shredder.
After another blast of winter, Dirtsister stepped out, drug more limbs that have fallen and realized that she'd lost her place in the garden.  We'll sort that one out later.
Have a good week! And remember the engineering disaster the Titanic…..it went down today.
Today's tip for better living: Start a pillow fight.