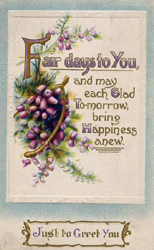 Greetings!
It's been a nutty week. First, three beautiful things:
Return of the Boys of Summer
Pesto
My Accountant- Moe- I love ya
As Seen On TV urn ! Sold to the props dept. of The Closer. Episode airs in July.
And then the most emotional call of the day…..the mother of this young man. Normally, we try to stay neutral, but this one racked me up. His mother was gracious and gave me permission to publish her memorial ideas, and we'll post in detail on the site later. She has a beautiful memorial planned, his birthday is coming up and the family and friends are donating a bench and planting a tree in a park near their home. His frat brothers have a site up in his memory. Very touching.
Ok, I'm trying to think of something light to end on here…..I've got nuthin'. Thank God it's Friday.
Today's tip: Sing and dance with gypsies.