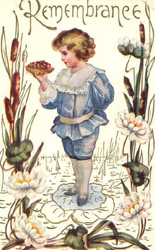 Greetings! Is Mr. Fancy Pants offering up a bowl of cherries? Very symbolic.
Last Sunday was the first funeral I'd been to where no body was present. And I don't mean "nobody". Joe Rook's funeral was big. Over 1200 guests according to the funeral home.
It's likely that for many of the people there, it was the first time to attend a funeral without a body present. Even though cremation is on the rise here, we're still pretty traditional in Southwest Missouri.
The main chapel seats 500 and guest spilled over into three other rooms. We watched the service on a giant screen. Although I could hear Joe's granddaughter singing, I wish I could have seen her. She was off-camera.
This was my first Masonic Service and first time to visit the new facility at Greenlawn Funeral Home East. The new location is gorgeous, modern design, soothing decor and a far cry from their north location, that hasn't been updated in 40 years.
The family chose to have a one hour visitation before the service and the funeral directors were getting nervous about an obvious time crunch (they had another service scheduled later) and handled the crowd in an orderly fashion.
Impressive.
This post is not intended to be a critique of the service, only an observation of the service and new facility at the largest funeral provider in this market.
I've been meditating on Joe's tag line: "It's a beautiful day in the Ozarks!" and hope you will too. Have a great week!