I've been collecting books on death and funerals for decades. One of the first was Phillippe Ariès , In the Hour of Our Death, purchased when I was in graduate school in the early 1980s. On the very first reading –and every reading after– the book caused a severe bout of "literary envy": I so wished I had written it! Two far more recent publications make me feel exactly the same way and you don't have to be an academic to appreciate either one.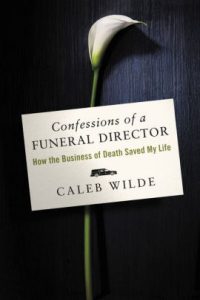 The first, Confessions of a Funeral Director: How the Business of Death Saved My Life, was written by Caleb Wilde, a funeral director. He's been an acquaintance of mine for a few years and I've had the pleasure of interviewing him for different writing projects. Lucky me; he's a thoughtful, gracious, gentle man, with a fine sense of humor: a great combination for anyone, but especially a funeral director. (You can discover his depth of character by reading his blog: Confessions of a Funeral Director: Working at the Crossroads of Life and Death.)
I'll be honest with you – some passages of Caleb's book may make you cry. Not necessarily because they're sad; because they're so very personal. I felt honored to read his book; privileged to bear witness to the spiritual and psychological evolution of a unique individual. Albeit deeply personal; Caleb's book is a scholarly work, too; and features both chapter notes and citations.
As the title alludes, the book offers readers a set of 'confessions', which he summarizes in the epilogue. I'll tempt you with the first and second (as they speak to his message in its entirety):
"The death negative narrative says there is nothing good in death"…it "does not tell the whole story. Death is a normal part of life, and when we come to a healthy understanding of it, beauty is found. Let death show you goodness."
"Death cannot be tamed. Death can either break us open or it can break us apart. Those who are broken open find more room for compassion, understanding, forgiveness, and the Other. Let death break you open."
How's that for thought-provoking?
My second recommendation is just a bit more fun, yet it's still quite thought-provoking. It's also written by a funeral professional, Caitlin Doughty (you may have seen her making the rounds of the morning television shows recently).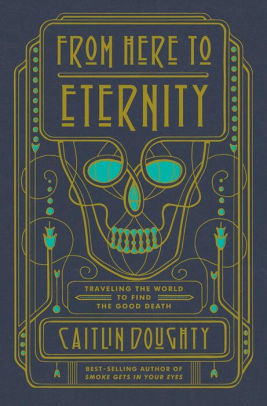 From Here to Eternity: Traveling the World to Find the Good Death is the second book from her. (The first, Smoke Gets In Your Eyes and Other Lessons from the Crematory was published just three years ago, in 2015.)
Like Caleb, Caitlin is fascinating. The San Francisco Chronicle describes her as having a "bold curiosity and mordant wit"–and they're right. If you peruse reader reviews of From Here to Eternity: Traveling the World to Find the Good Death, you'll see comments describing Caitlin as "big thinking" and "a greater writer". The book is described as being "fascinating and hilarious". Again, all are true. If you're looking for a good read for a winter's read and are curious about how people in other places care for their dead, this is a fine choice.
Did You Miss Our Previous Book Reviews?
If you're not aware, book recommendations have become a regular feature here at Life in the Garden. The first featured a delightful (and instructive!) children's book: "Angel Birthdays: A Day to Remember, A New Way to Heal, A Celebration of Life" (Garay and Abbott). The second post, Book Reviews: Two Collections of Healing Affirmations, looks at affirmations (a very useful 'tool' for anyone dealing with the aftereffects of losing a loved one) and suggests two collections worthy of 'a look-see'.