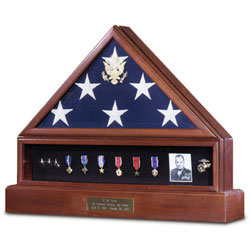 Retired or honorary discharged members of the U.S. Armed Forces and their immediate families may be eligible to receive some benefits and financial support to cover some funeral and burial costs.
Veterans, their spouses and dependents can be buried for free in a national cemetery. The deceased person receives a plot, burial flag, government headstone, opening and closing of the grave, care of the site and a Presidential Memorial Certificate. If the veteran was cremated, he or she also receives the same benefits. There are 131 national cemeteries in the United States and 33 soldier's lots and monument sites, which are similar to national cemeteries.
Other funeral and burial benefits afforded to veterans include:
$300 reimbursement for veterans receiving a VA disability benefit or pension.
 $300 interment-plot allowance for the veteran who is not buried in a national cemetery, but who died at a VA hospital or healthcare facility, or who received VA disability benefits or pension.
$2,000 burial plot allowance if the veteran died from a service-related injury or during active duty.
 A U.S. flag
 A grave marker or headstone
 Transportation reimbursement if the veteran died at a VA healthcare facility or hospital
There is also various types of death benefits and services offered to surviving spouses and dependents by the U.S. Department of Veterans Affairs. They include compensation, survivors' pension, educational assistance, home loans, counseling, commissary privileges and fiduciary services.
It's important to sign up for these benefits and allowances as soon as possible after the veteran's death. Most of the forms are available online and assistance is available by calling (800) 827-1000.