Urn Garden identifies 10 popular funeral flowers, and the meaning behind them.
Flowers have the ability to convey a certain significance that words, cards, or gifts can not. That sentiment is perhaps elevated when it comes to a funeral. Knowing the importance behind such a gesture can make choosing a flower for such an occasion an overwhelming process. But it doesn't have to be; we at Urn Garden explain.
The thing to keep in mind is that you want the flower to reflect the relationship you had with the person. Was the deceased the love of your life? A good friend? Neighbor? Co-worker, perhaps? There can be a different flower for each relationship. That's why we at Urn Garden have identified 10 flowers suitable for such an occasion and the meanings behind them.
Lilies
A symbol of purity and innocence, the Lily is perhaps the most popular funeral flower. The suggestion here is that the soul of the deceased has returned to a peaceful state.
Roses
With its many symbolizations – love, spirituality, purity and innocence – the rose is another common funeral flower. The specific symbol or meaning, however, is determined by the color of the rose. The classic red is a symbol of grief and love. Yellow is used to show a bond shared between friends. And pink is used to express thankfulness. Urn Garden also offers – if you should decide cremation is right for you and your family – an Irish Rose Cremation Urn, which could help express the same sentiment.
Orchid
While the color of the orchid may vary, the meaning of the flower does not. It's universally recognized that the orchid symbolizes an enduring and everlasting love.
Carnations
Often used in funeral wreaths, the carnation comes in many different colors. As such, the flower has many different meanings – not so unlike a rose. Red shows admiration, and tends to symbolize innocence. White shows innocence and pure love. And pink shows remembrance. Additionally, Urn Garden offers an array of memorial gifts, which could help express the significance you're looking for.
Hydrangea
The hydrangea isn't all that commonly used as a funeral flower. Perhaps it's for that reason that the meaning isn't one that is universally recognized. It is suspected, however, that the flower symbolizes true heartfelt emotions.
Tulips
Tulips are another flower that offer a number of meanings and symbols with its different colors. Red is usually used to symbolize perfect love, whereas white is typically a symbol for forgiveness or worthiness. Furthermore, Urn Garden provides a wide variety of cremation jewelry, which could perhaps betters portray the sentiment you are seeking (again, if you should decide cremation is right for you).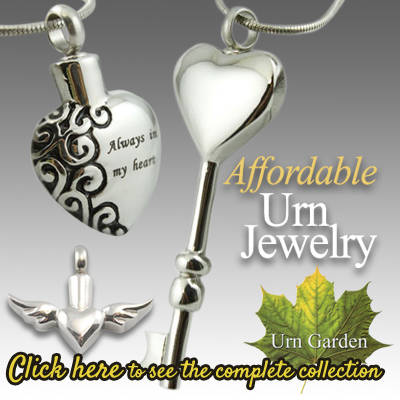 Violets
While violets aren't often used in funerals, they do have a deep significance when it comes to symbolization: delicacy and modesty. Purple is a popular color in cremation urns and the purple Iris flower is a theme that families often choose.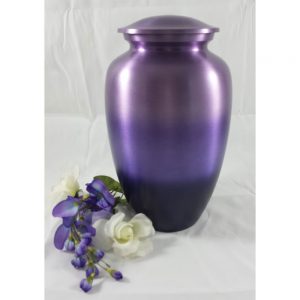 Chrysanthemums ("Mums")
This flower, often referred to as a "Mum", has a different meaning and symbolization depending on what part of the world you're in. In the United States, for example, this flower symbolizes truth. However, in much of the rest of the world, including Europe and many Asian cultures, white mums are used to signify death, mourning, and grief. Urn Garden also offers a Nike Goddess of Victory and Truth Cremation Urn, which could help express the same sentiment.
Hyacinths
Hyacinths are often used to add a pleasant aroma to the flower arrangements at a funeral. But if it's a gesture to the deceased you're using them for, the flower is known to represent a deep sorrow.
Forget-Me-Nots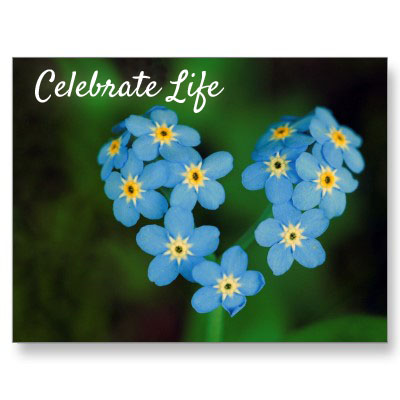 Not unlike its name, the Forget-Me-Nots symbolize faithful love, memories, and remembrance – suggesting that the deceased will live on in the memories of the person giving the flower. Urn Garden also offers a number of memorial stones, which would be another option to portray the significance you are looking for.
Funeral Flowers Wrapped up
When it comes to choosing a flower for a funeral there's no shortage of options. And while there are plenty of flowers to choose from, determining what type of flower to get ultimately comes down to what kind of relationship you had with the person. Reflect on that, and you'll be well on your way to finding the perfect flower to honor your lost loved one.
Urn Garden Flower Alternatives
While there are many flowers with many symbolizations and meanings to help convey a relationship, a flower still may not be right for you. In that case, Urn Garden offers an abundance of other items that can fill that void. With memorial gifts such as dedication stones, engraved dog tags, and more – not to mention our surplus of cremation urns and cremation jewelry – we feel confident telling you that we'll have the item to accurately represent your relationship with a deceased loved one.
Visit our website today for more information on funeral flowers, memorial gifts, cremation urns and more.

(All information regarding flowing meanings or symbolizations retrieved from everplans.com)