This morning we received a call from a client who was ordering a cremation urn for his father who had proudly served in the marines and recently died. He wanted an American made memorial that would honor his father's military service.

The problem? He was under the impression that he had already bought an urn from a company that specialized in custom urns only to find out that the merchant was out of business, hence the call. He wanted to verify that we were legit and still in operation.
Urn Garden is Still Here
We've been in business since 2004 and proudly serving families all over the country, providing affordable memorials and stellar service. In the last few years there have been many new companies popping up, even big box retailers that want to capitalize on the funeral market. Overseas manufacturers that previously supplied the distributors are now trying to increase profits by aggressively competing against their customers. As harsh as it sounds, these merchants only care about padding their bottom line.
If you plan to buy an urn online:
You should know that we are a stocking dealer located in the heartland of America. Our goal is to serve families and provide funeral directors with the options that families want, whether it's a premium bronze art sculpture, jewelry, or an inexpensive discount burial jar. We love to showcase American artists who create memorials made with compassion especially for you.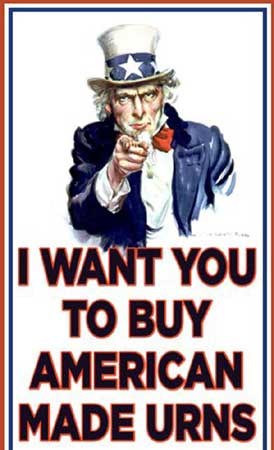 We created a guide with factors to consider if you are shopping for an urn online, and thoughts on why you should consider buying an urn from either your funeral director or a reputable online reseller other than the jungle site. If you have questions or doubts, please call and one of our caring representatives will assist you. And as always, thanks for letting us serve you during this difficult time.