Another increasingly popular choice in cremation jewelry is heart cremation rings. Similar to heart urn necklaces, these rings can hold a small amount of cremated ashes, lock of hair, funeral flower petals or another tiny memento. And because you wear the ring on your finger or on a chain around your neck, it provides lasting comfort of having your loved one close to your heart.
Heart cremation rings are common because they symbolize a person's affection and love for another. It's not uncommon for a spouse or parent to wear a cremation ring as a comforting reminder. Hearts also represent the unbreakable connection between loved ones.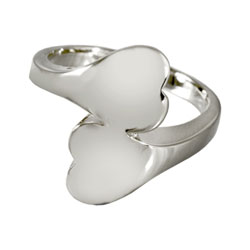 Cremation rings come in a variety of materials including 14K gold, Sterling silver, gold plated, titanium, brass and pewter and are worn by both men and women. When not worn, heart cremation rings can be kept in a special glass dome or display as another way of honoring your loved one.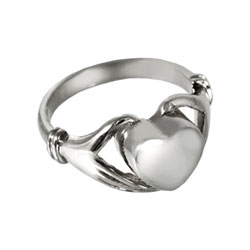 Our sweet Tender Heart sterling silver memorial ring is a keepsake cremation ring that holds a small memorial of your loved one. Finally, consider have the heart cremation ring engraved with your loved one's name and birth and death dates. Cremation rings are very tasteful and discreet and provide a lifetime of comfort.