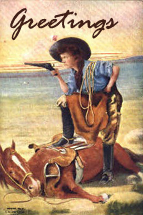 The Today Show is never on here. Ever. But today, NBC's Today Show was Must See TV. Why? To catch an interview with my latest study. Top Blogger Heather Armstrong of Dooce.com. If you want to skip the intro to Mommy Blogging and go right to Heather's interview the time code is at approx. 3:05.
Maybe I'm a little late to the party, I just discovered Dooce from June-Gonna-Eat-That, and I'm both intrigued and amused. Heather's bio is interesting as well as her presentation. The Blog Gets Personal. Always has, and she has the hate-mail to prove it (and she showcases it).
Dooce.com is loaded with advertising. The blog format unintentionally uses the oldest advertising appeal; kids and animals. And it supports the family.
Kathy Lee was clueless to the concept. Who Knew that this blog thingy on the interweb could cost you your job and possibly create a new revenue stream?
I want to know more. When I worked in television, I always enjoyed working on the production part of a show or ad.
Now? We're all producers.