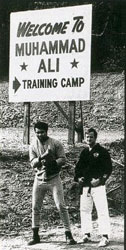 My East Coast family is watching the Ebay auction for Muhammed Ali's training camp just down the road and around the corner.  Bidding is up to over 4 million for five acres in the Appalachian Mountains. Hurry, bidding ends in 17 hours!
In 1970, looking for a place to train in peace, Muhammad Ali chose Deer Lake, Pennsylvania for its beauty, breathtaking views, and tranquil settings for him to properly train for upcoming fights. Finding the country setting to his liking, Ali then sought to develop a real training camp in the countryside.
The terrain in this area reminds me of the Ozarks, with bigger mountains, nuclear power, and only a two hour drive to New York City or DC.
Looks like Hillbilly Heaven.