Copper Dragon Raku Pottery Jar for Ashes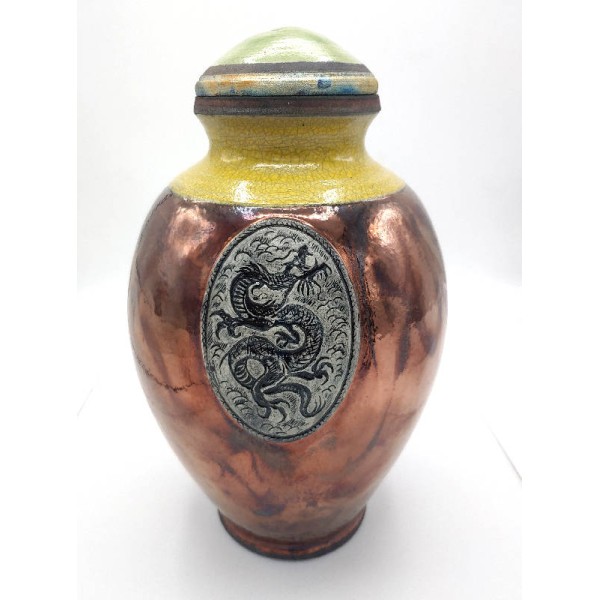 Copper Dragon Raku Pottery Jar for Ashes
Stock:

In Stock

Product Code:

23-Copper
One of a kind dragon jar for ashes. This pottery is fired in the Raku style with brilliant copper glaze and is one of our most popular styles. Hand carved dragon emblem on three sides of the urn to represent power, strength, and good fortune. Yellow is a powerful color and the golden crackle glaze around the top of the jar and lid contrasts nicely with the shimmering metallic copper. The Raku firing process creates vibrant colors and patterns, and the end result is a beautiful one-of-a-kind memorial urn for your loved one.
Lots of suppliers are selling what they call raku, and they are cheap aluminum urns with iridescent paint. Our hand thrown pottery is created with care and signed by the artist. This is a one-of-a-kind art piece made by American artist to honor your loved one and is the only one available.
Measures: 12" H x 7" W
Adult Size. 160 cubic inches
Lid can be sealed with any clear household glue.
Made in America, signed by the artist.
Handcrafted items can have variations.