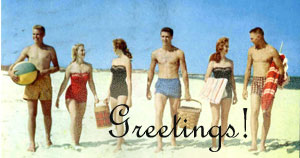 Part of our long range goal is to winter over in some sunny locale and celebrate the season with a Beach Party in February! But for now, we work. We've relocated our mobile command center to the kitchen for a couple of days while the main office undergoes a facelift. Bring it!
Busy Friday brings another installment of our Memorial Garden Series. Not everyone has the time or the space to dedicate to the green variety of a tribute garden. Regarding the time, if you have the space, I can verify that the process of digging a hole and planting a live blooming plant can be restorative. Dr. Hall recommends planting for the soul. Testify!
Dirtsister posted some ideas for creating your sacred space. Over the years, we've been re-working and consolidating (downsizing) gardens and beds due to the time and space considerations.
On a smaller scale, the rosemary topiary is great for the apartment or condo dweller. Combine with a favorite scented candle, picture or other mementos and wah-la. An easy memory that blends with your surroundings.
We've talked about the memorials that our clients direct us to on You Tube, MySpace, Facebook, and other sites that become online tributes to the deceased. Very powerful. We have our own family and friends page and sadly, it needs to be updated.
Dirtsister has commitment issues and that's the fascination with the ink. Personally, we are unblemished, but admire the symbolism, art and permanency of the memorial tattoo. I'd like to see a Body World Exhibit featuring live models showcasing their art.